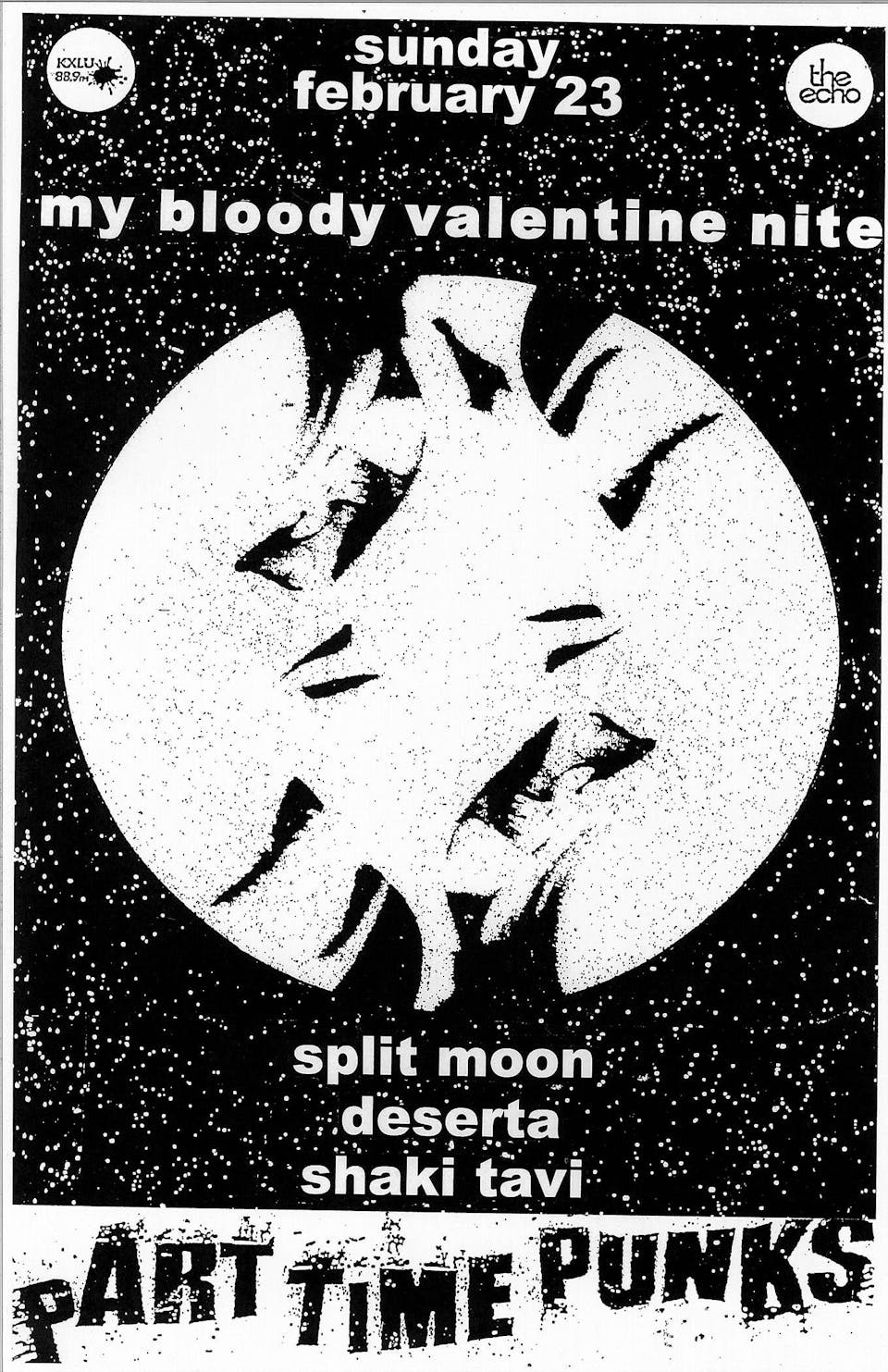 10th Annual MY BLOODY VALENTINE NITE
Split Moon, Deserta, Shaki Tavi, Highland
The Echo
Los Angeles
,
CA
$7.00 - $10.00
Sales Ended
10th Annual MY BLOODY VALENTINE NITE at the ECHOPLEX on FEBRUARY 23, 2020
Crazy but true fact: this is the 10th Annual My Bloody Valentine Nite at Part Time Punks! An annual event on or around Valentine's Day that features a line-up of new shoegaze bands inspired by MBV, and featuring a handful of MBV covers in each set! And of course yer host & DJ will be spinning other MBV tracks, Kevin Shields-produced rarities and other jawdropping shoegaze tracks all nite long.
SPLIT MOON (formerly LEAF) is an L.A.-based band blending heavy melodic hooks in a haze of droning, fuzzed out riffs. Or, as Jack Rabid from The Big Takeover describes: "…a mammoth, loudly crescendoing psychedelic dreampop noise racket par excellence."
Listen to SPLIT MOON.
DESERTA features Matthew Doty (from Midnight Faces and Saxon Shore). Their debut LP just dropped last week on Felte Records -- a lush, hazy new album called 'Black Aura My Sun'. Described as "Sigur Ros meets Slowdive" this is dynamic dream pop, with a gorgeous wall of sound building throughout the album.
Listen to DESERTA.
Awesome new shogaze/noisepop racketmakers SHAKI TAVI are another of PTP's new LA faves (formed from members of HOTT MT, who played PTP's MBV Nite some years back). Or, as the band describes themselves: "Los Angeles shoegaze/slackrock/slice of life anime 6 piece."
Listen to SHAKI TAVI.
Highlands make "hallucinogenic space-rock that could be the beverage for washing down whatever was really inside Spiritualized's 'Ladies and Gentlemen We Are Floating in Space' packaging" (Buzzbands LA, 2019). The spaced-out quartet from Long Beach, CA is comprised of members Scott Holmes, Beau Balek, Justin Ivey, and J.P. Bendzinski, drawing from influences such as Jesus and Mary Chain, The Chameleons, Slowdive, and Spacemen 3. Highlands has shared the stage with modern psych rock trailblazers such as Black Mountain, Dead Meadow, A Place to Bury Strangers, Cosmonauts, Sleepy Sun, Lumerians, White Hills, and at festivals such as Psycho Las Vegas and Desert Daze.
Listen to HIGHLANDS.