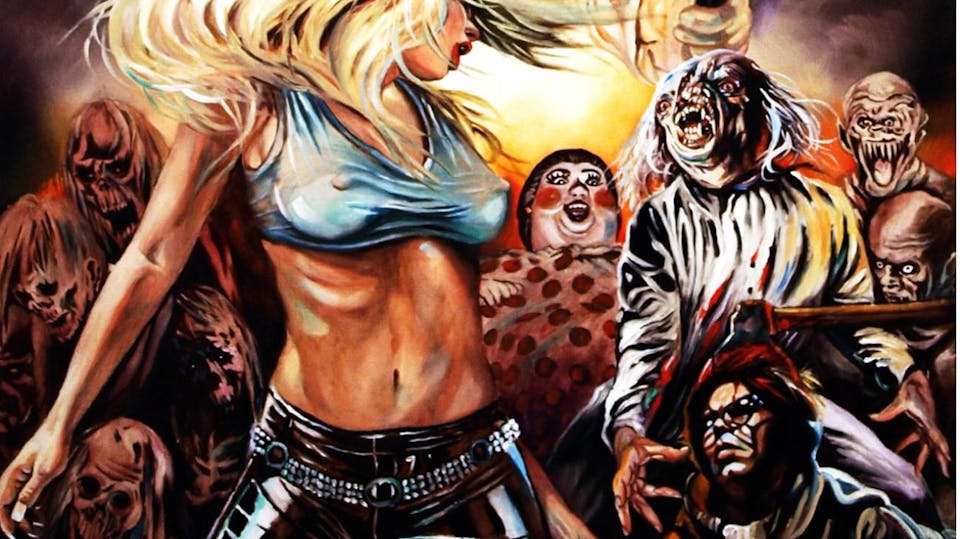 Tobe Hooper's THE FUNHOUSE
The Regent Theater
Los Angeles
,
CA
The Regent: 16mm screening of Tobe Hooper's THE FUNHOUSE
Stick around after the movie! Screenwriter of THE FUNHOUSE, Larry Block, will be doing a Q&A after the film!
*** Seating is first come first serve***
Part of our FESTIVAL OF HORROR series. SPECIAL SCREENING! FESTIVAL OF HORROR WITH COCKTAILS! Tuesday, October 22, 2019 @ 8p (doors open at 7p, The Regent, Downtown Los Angeles: THE FUNHOUSE (1981, Universal, directed by Tobe Hooper, 16mm, 96mns )
Special Note: This is an 18+ years old screening at the classic Regent Theater (built in 1914!), 448 South Main Street, Los Angeles, CA 90013. Bars will be open on both floors so you can order drinks, beers, popcorn. We'll be showing our movie on one of the best professional 16mm projectors in existence, prepared especially for us by the film technicians who service the Directors Guild of America. And you can still be home and in bed before 10:30pm in time for work the next day.
Some horror movies are just pure nasty fun. Let's be clear. We're not saying that every gratuitously violent slasher horror movie is worth your money.
What we're saying is that among the sub-genres of horror, which include horror sci-fi, horror comedy, epic horror, etc-there's a particular "go for the throat" super simple lizard brain kind of horror that, when done well, is as thrilling, stunning, effective, and masterful as anything you'll ever see.
Tobe Hooper, coming off his 70's low budget classics The Texas Chainsaw Massacre and Eaten Alive, got one of his first bigger budgets here by Universal to make The Funhouse.
Very cannily, Hooper didn't try to get too epic. Instead, he created a very contained horrific concept: what if a group of morally suspect teenagers voluntarily decided to spend the night in a sleazy carnival funhouse on a dare. And it works like gangbusters.
Of course there's a killer. Of course that killer is every inch as horrific and unknowable as Leatherface from Massacre. But here, Hooper adds the great layer that in The Funhouse it's impossible to distinguish the mechanical scares from the real scares.
The plot is as simple as who can survive and wait out the night. But for 96 terrifying and hilarious minutes, you'll be on the edge of your seat.
This is the second of our three part residency at the classic Regent Theater in downtown Los Angeles (448 South Main Street, Los Angeles, CA 90013).
We can order beer, drinks, popcorn, sit on couches, chairs, stools, hoot and holler at the screen, and have a great time and still be home by 11p in time to get a good night's sleep for the next day.
Sometimes you just gotta grab your friends, some drinks, and watch a great early 80's horror movie while munching popcorn, in a great historic theater. See you there!
EVENT DATE, TIME, TICKET PRICE, AND LINEUP ARE SUBJECT TO CHANGE.
The maximum number of tickets available per purchase for each event is the maximum number permitted per customer. Your name, credit card, address, and email address will be verified. Spaceland Presents/The Regent or Eventbrite reserve the right to cancel any orders in excess of the stated ticket limit.
Any tickets suspected of being purchased for the sole purpose of reselling can be cancelled at the discretion of Spaceland Presents/The Regent or Eventbrite.
Be the first to find out about all the new shows at Regent, Echo + Echoplex, and all the other cool shows we have throughout Los Angeles by visiting our website: spacelandpresents.com!
Plus Unlock promo codes for presales to our upcoming shows by signing up to Spaceland's weekly email blast!