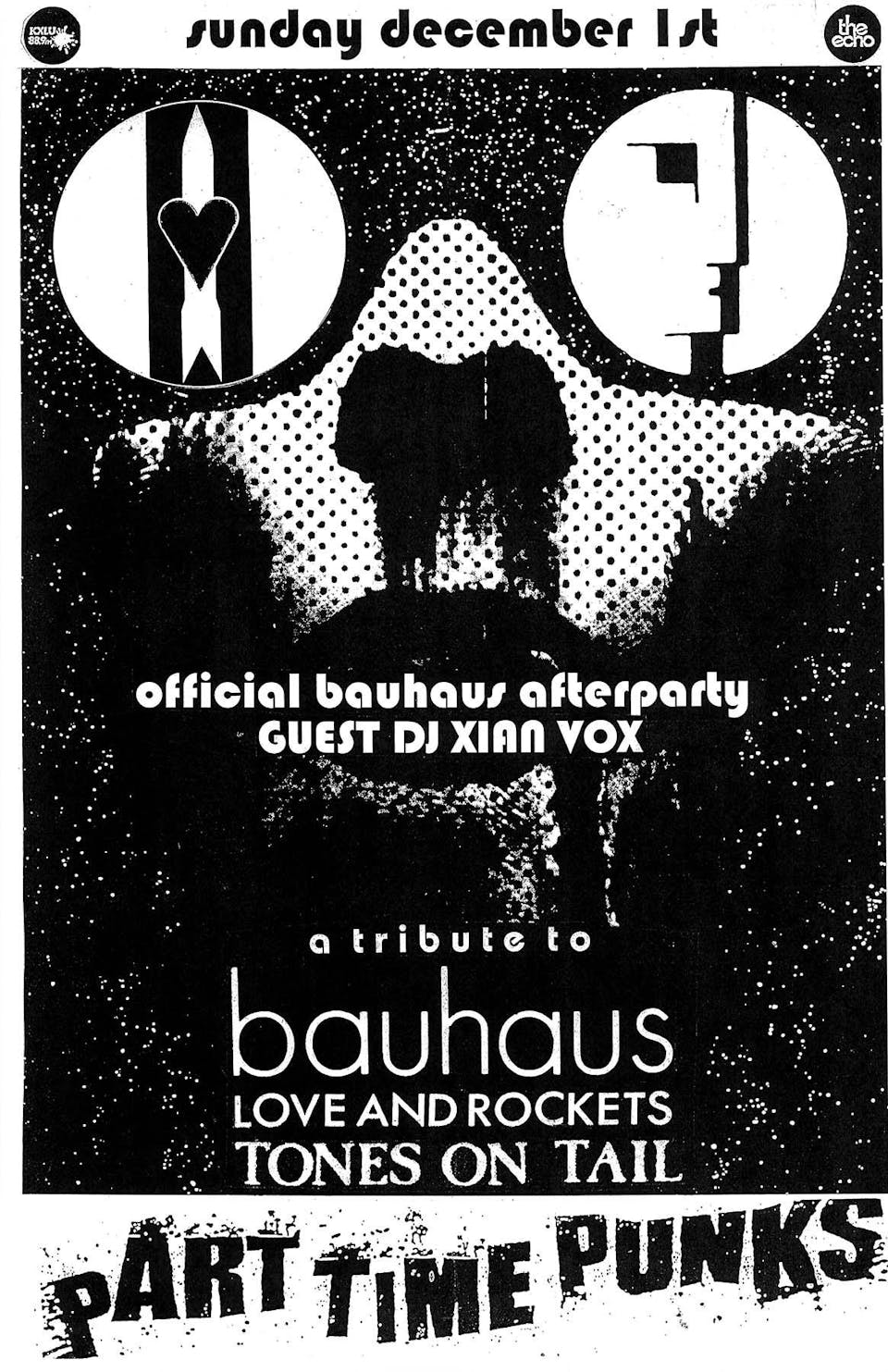 BAUHAUS / LOVE & ROCKETS / TONES ON TAIL NITE w/Guest DJ Xian Vox
The Echo
Los Angeles
,
CA
$5.00 - $8.00
Sales Ended
OFFICIAL BAUHAUS AFTERPARTY - Free with Ticket Stub to Bauhaus at The Palladium
This Sunday at Part Time Punks...a nite devoted to the vinyl sounds of one of the most talented quartet of musicians in Post-Punk history: Peter Murphy, Daniel Ash, David J. and Kevin Haskins. This collective of musicians originally known as BAUHAUS, soon splintered into a handful of equally talented groups, such as LOVE & ROCKETS, TONES ON TAIL, DALI'S CAR, THE SINISTER DUCKS and THE JAZZ BUTCHER, and have also released a handful of remarkable solo records, (as well as weird and wonderful collaborations with the likes of Alan Moore, Rene Halkett and others). On this night, you will also hear the band's punk & goth contemporaries (Joy Division, The Cure, Siouxsie & The Banshees), 4AD labelmates (Xmal Deutschland, Cocteau Twins, Dance Chapter, Rema Rema, The Birthday Party), and a smattering of the bands' heroes & influences (Velvets, Bowie, Eno, Roxy Music, T-Rex, New York Dolls).
Haven't done this since 2013! But as it is the Official Afterparty for the Bauhaus gig happening downtown tonite, seems about time! And anyone with a Bauhaus ticket stub gets in for FREE!