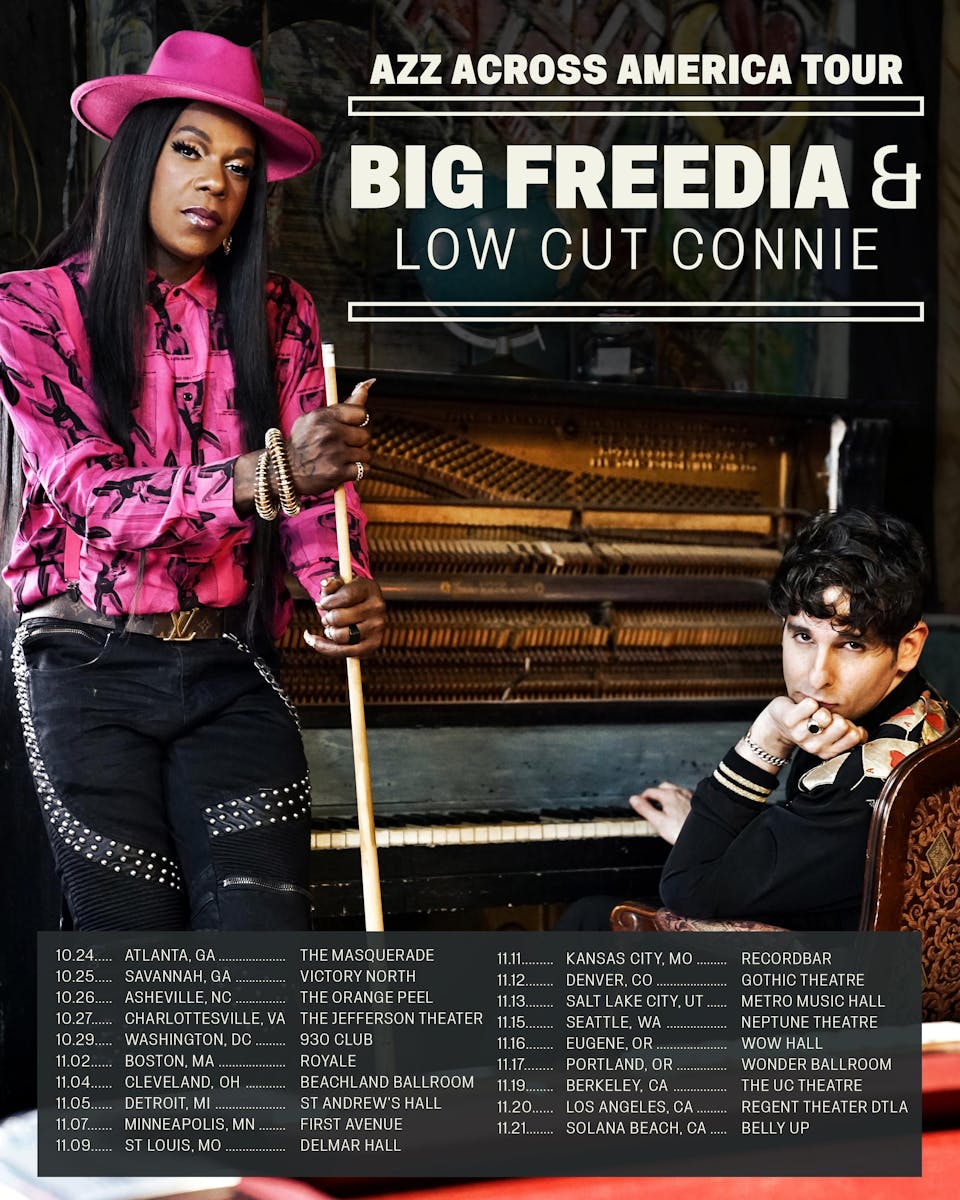 Big Freedia
Low Cut Connie, Boyfriend
Regent Theater DTLA
Los Angeles
,
CA
.
​ ​The​ ​Queen​ ​of​ ​Bounce,​ ​is​ ​a​ ​New​ ​Orleans-based​ ​rapper​ ​and​ ​ambassador of​ ​Bounce​ ​music.​ ​​ ​After​ ​dominating​ ​the​ ​New​ ​Orleans​ ​club​ ​scene​ ​for​ ​over​ ​a​ ​decade,​ ​Big​ ​Freedia is​​now​​bringing​​the​​Bounce​​movement​​to​​a​​world-wide​​stage​​with​​her​​hit​​reality​​show,​B​​ ig Freedia​ ​Bounces​ ​Back​​ ​on​ ​Fuse​ ​TV.​ ​The​ ​weekly​ ​docu-series,​ ​now​ ​in​ ​its​ ​sixth​ ​season,​ ​follows​ ​the life​ ​of​ ​a​ ​choirboy​ ​turned​ ​Bounce​ ​rapper​ ​and​ ​remains​ ​the​ ​highest​ ​rated​ ​original​ ​series​ ​on​ ​the network.
In​ ​2016,​ ​Freedia​ ​was​ ​featured​ ​on​ ​Beyonce's​ ​Grammy-winning​ ​single,​ ​"Formation."
Freedia's​ ​first​ ​LP,​ ​"Just​ ​Be​ ​Free"​ ​was​ ​named​ ​one​ ​of​ ​the​ ​'best​ ​electronic​ ​releases'​ ​by​ R​​ olling Stone​​ ​and​ ​was​ ​critically​ ​acclaimed​ ​in​ ​outlets​ ​such​ ​as​ ​​Pitchfork​,​ ​​SPIN​,​ ​​USA​ ​Today​,​ ​and Consequence​ ​of​ ​Sound​.​ ​Big​ ​Freedia​ ​has​ ​collaborated​ ​with​ ​artists​ ​ranging​ ​from​ ​Sia,​ ​Elliphant, The​ ​Postal​ ​Service,​ ​Matt​ ​&​ ​Kim,​ ​and​ ​Mannie​ ​Fresh,​ ​and​ ​Sylvan​ ​Esso.
Big​ ​Freedia​ ​continues​ ​to​ ​tour​ ​over​ ​a​ ​hundred​ ​dates​ ​a​ ​year​ ​with​ ​her​ ​legendary​ ​shake​ ​team,​ ​who are​ ​bring​ ​Bounce​ ​moves​ ​like​ ​"the​ ​twerk"​ ​(popularized​ ​by​ ​Miley​ ​Cyrus​ ​in​ ​2013),​ ​"the​ ​shake"​ ​"the wiggle,"​ ​"the​ ​bend​ ​ova,"​ ​the​ ​"hands​ ​on​ ​the​ ​ground,"​ ​to​ ​audiences​ ​worldwide.​ ​Big​ ​Freedia​ ​is​ ​a consistent​ ​festival​ ​favorite,​ ​known​ ​to​ ​steal​ ​the​ ​show​ ​at​ ​Outside​ ​Lands,​ ​Fun​ ​Fun​ ​Fun​ ​Fest, Bonnaroo,​ ​FYF​ ​and​ ​many​ ​more.
In​​2015,​​Big​​Freedia​​penned​​her​​first​​memoir,​B​​ ig​​Freedia:​​God​​Save​​the​​Queen​​Diva!​​​on Gallery​ ​Books/Simon​ ​&​ ​Schuster.​ ​The​ ​book​ ​was​ ​hailed​ ​in​ ​the​ ​press​ ​by​ ​outlets​ ​from​ R​​ olling Stone​​ ​and​ ​​Pitchfork​​ ​to​ ​​Out​​ ​and​ ​​Bust​.
In​ ​2012,​ ​Big​ ​Freedia​ ​made​ ​her​ ​television​ ​network​ ​debut​ ​on​ J​​ immy​ ​Kimmel​ ​Live!​​ ​She​ ​has​ ​also appeared​ ​on​ ​​Last​ ​Call​ ​with​ ​Carson​ ​Daly​,​ ​​Watch​ ​What​ ​Happens​ ​Live​,​ ​NPR's​ ​​All​ ​Things Considered​,​ ​NPR's​ ​​Marketplace​,​ R​​ idiculousness,​ ​​and​ ​​The​ ​Real​.​ ​Her​ ​TV​ ​show​ ​received​ ​the GLAAD​ ​Media​ ​Award​ ​in​ ​2014​ ​and​ ​was​ ​nominated​ ​again​ ​for​ ​the​ ​award​ ​in​ ​2015.
Big​ ​Freedia​ ​continues​ ​to​ ​release​ ​new​ ​singles​ ​and​ ​will​ ​releases​ ​her​ ​sophomore​ ​album​ ​in​ ​2018.
FACEBOO| TWITTER | INSTAGRAM | APPLE MUSIC | SOUNDCLOUD
"If an alien landed and asked what rock 'n' roll is, you could start here."
Perhaps, like the Grand Canyon, Boyfriend is best witnessed in the flesh.
EVENT DATE, TIME, TICKET PRICE, AND LINEUP ARE SUBJECT TO CHANGE.
The maximum number of tickets available per purchase for each event is the maximum number permitted per customer. Your name, credit card, address, and email address will be verified. Spaceland Presents/The Regent or Eventbrite reserve the right to cancel any orders in excess of the stated ticket limit.
Any tickets suspected of being purchased for the sole purpose of reselling can be cancelled at the discretion of Spaceland Presents/The Regent or Eventbrite.
Be the first to find out about all the new shows at Regent, Echo + Echoplex, and all the other cool shows we have throughout Los Angeles by visiting our website: spacelandpresents.com!
Plus Unlock promo codes for presales to our upcoming shows by signing up to Spaceland's weekly email blast!