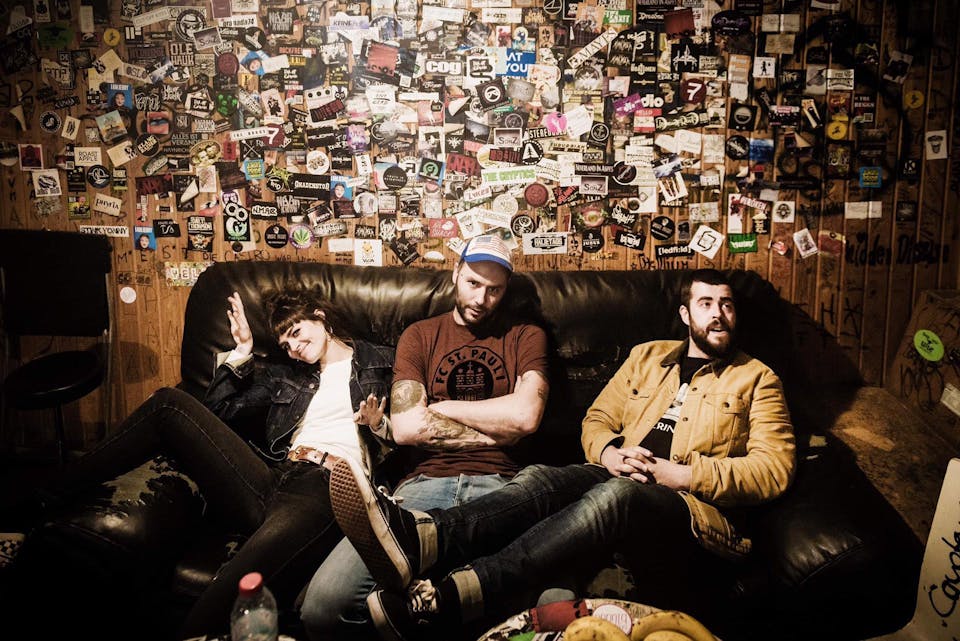 Brutus
Storefront Church, Iress
The Echo
Los Angeles
,
California
BRUTUS appearing at THE ECHO in LOS ANGELES with STOREFRONT CHURCH and IRESS
Brutus
To describe the last two years as a whirlwind for BRUTUS is something of an understatement. Having signed to Hassle Records, 2017 saw the release of their debut album, Burst, which set them on a path littered with 10/10 reviews, award nominations and 'album of the year' accolades. The BRUTUS maelstrom hasn't slowed any through 2018; a relentless touring schedule has seen them win over club and festival audiences en masse.
Having toured with Sargent House label mates Chelsea Wolfe and Russian Circles, BRUTUS also hit the road as main support to Thrice through Europe. Taking time out from the live circuit, the trio headed to Vancouver to record the follow up to Burst, once again returning to Jesse Gander (Japandroids, White Lung, Baptists) at his Rain City Recordings studio in September 2018. The resulting 11 tracks form BRUTUS's new album, Nest.
By their own admission, the formative sound of the band was shaped by their physical limitations; drummer Stefanie Mannaerts adopted vocal duties initially out of necessity. Having fully embraced her role as both vocalist and drummer, the full range of Stefanie's multiple talents is showcased on Nest. The abrasive urgency of her emotive vocals is mirrored in the tribalistic drumming, just as tender whispers echo the gentle roll of percussion elsewhere. Co-conspirators Stijn Vanhoegaerden (guitar) and Peter Mulders (bass) complete the magic circle with pervasive riffs, dynamic bass lines, and a fine balance between uneasy restraint and unrepentant aggression. BRUTUS throws a net over post-rock, hardcore, metal and pop, gathering defining facets of each into their unique sound.
The path BRUTUS has taken has been meticulously mapped out on Nest. All those glorious highs and euphoric moments are present - highlighted in magnificent technicolour no less. Burrowed in amongst those triumphs are moments of reflection; the choices they have made in pursuit of their goals and the impact those choices have had on both themselves and those they have left behind in their nest. It's timeline of invincibility and doubt, of taking risks and letting go; a chronology of what they are and what they've done.
By accident or design, as pieces of the outside world fell away, the bond between band members wound ever tighter. Bound by a thread that was intangible to others, their shared experiences, both good and bad, shaped the writing process for Nest. Falling together produced a new level of confidence that resulted in an intuitive sense of when to strip things back - such as on the drummer-less Space - or when to go full throttle, like album opener, Fire, with its relentless signature riff.
Cemetery reflects on a period of friction between the band's forward motion and their desire to maintain a connection to those back at home. The frenetic first passage demonstrates their irritation, followed by a lull and the refrain 'Give us some time for now' as they process this division. Carry is a pivotal moment; BRUTUS the all-conquering force also find themselves reaching back to the familiar comforts of home to strike a balance. The notion of seeking balance is also evident in the mass of melodies and changeable rhythms snaking their way through the track.
Nest's centrepiece, War, marks a turning point in the band's trajectory. Dense with emotion and self-realisation, the rawness of isolation, the bleakness of taking stock alone. The album closes with Sugar Dragon; a track the band describe as 'a true confession of love and guilt' - the ultimate ode to their loved ones. In their own words: 'Nest takes you to that moment where you feel like all of the things you've built are crumbling down'.
A diverse mix of influences penetrated the BRUTUS bubble, the biggest of which was the people around them on the journey to the creation of Nest. Be it the bands they toured with, their family at home, or indeed their own bandmates - human interaction is the nucleus of the album. However, additional sources of creative inspiration peppered their outlook; from Radiohead to Burial, from Twin Peaks to Townes Van Zant.
Nest is the sound of a band who know how to use the strength of their bond to full effect, to use every part of themselves as an additional tool for conveying their message: take care of those in your own nest. BRUTUS find their places of comfort to be very different to the ones previously held dear; the nest they started out with is not quite the same one as they stand in today.
Nest by BRUTUS will be released on March 29, 2019 via Hassle in Europe, and via Sargent House in the rest of the world.
IRESS
"Iress makes the kind of music that submerges you into another world. Heavy. Dark. Electric.
Doom-gaze guitars are layered over ethereal vocals that distort into anguished screams, and are accented by cinematic drums and dancing bass lines."
EVENT DATE, TIME, TICKET PRICE, AND LINEUP ARE SUBJECT TO CHANGE. Support acts are subject to change.
The maximum number of tickets available per purchase for each event is the maximum number permitted per customer. Your name, credit card, address, and email address will be verified. Spaceland Presents/The Echo or Eventbrite reserve the right to cancel any orders in excess of the stated ticket limit.
Any tickets suspected of being purchased for the sole purpose of reselling can be cancelled at the discretion of Spaceland Presents/The Echo or Eventbrite.