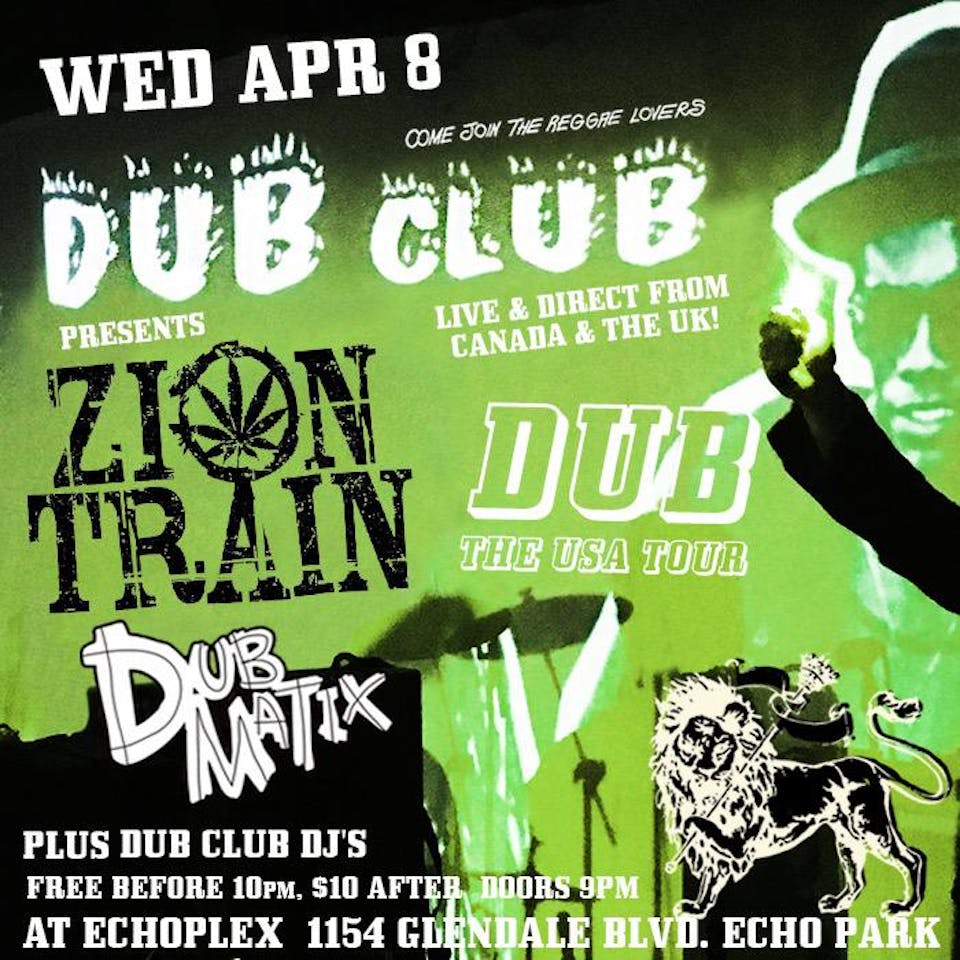 The Echo & Dub Club Present
CANCELLED: Dub Club with Zion Train, Dubmatix, & Dub Club DJs
Echoplex
Los Angeles
,
CA
Dub Club with Zion Train, Dubmatix, & Dub Club DJs
For the very first time ever, two giants of the Dub scene will perform together exclusively in the USA this Spring. Live mixing Dubs from their respective catalogues, Neil Perch of Zion Train and Jesse 'Dubmatix' King, join hands across the Atlantic to musically elevate the USA in Dub Unity.
Dubmatix is the seven-time Juno award winning Canadian composer, producer and multi- instrumentalist from Toronto who has carved out a massive following on the international circuit. He is a recording machine. From his debut release Champion Sound Clash in 2004, the Toronto-born Dubmatix has gone on to produce and record over 500 releases (Albums, EPs, Dubs and Remixes).
Zion Train are one of the most unique and enjoyable live dub acts on the planet; their use of dynamic onstage dub mixing, whilst performing alongside acoustic instruments and exceptional vocalists, make Zion Train one of a kind.
The new Zion Train album 'Illuminate' will be released on 1st May 2020.
Zion Train celebrated 30 years of existence in 2018 and have played well over 3000 shows in that time. ZT also operate their own Abassi Soundsystem and run two record labels (Universal Egg and Deep Root).
Four hands on one mixing desk; emitting dance friendly, psychedelic flavoured Dubwise beats – not to be missed....
EVENT DATE, TIME, TICKET PRICE, AND LINEUP ARE SUBJECT TO CHANGE.
The maximum number of tickets available per purchase for each event is the maximum number permitted per customer. Your name, credit card, address, and email address will be verified. Spaceland Presents/Echoplex or Eventbrite reserve the right to cancel any orders in excess of the stated ticket limit.
Any tickets suspected of being purchased for the sole purpose of reselling can be cancelled at the discretion of Spaceland Presents/Echoplex or Eventbrite.