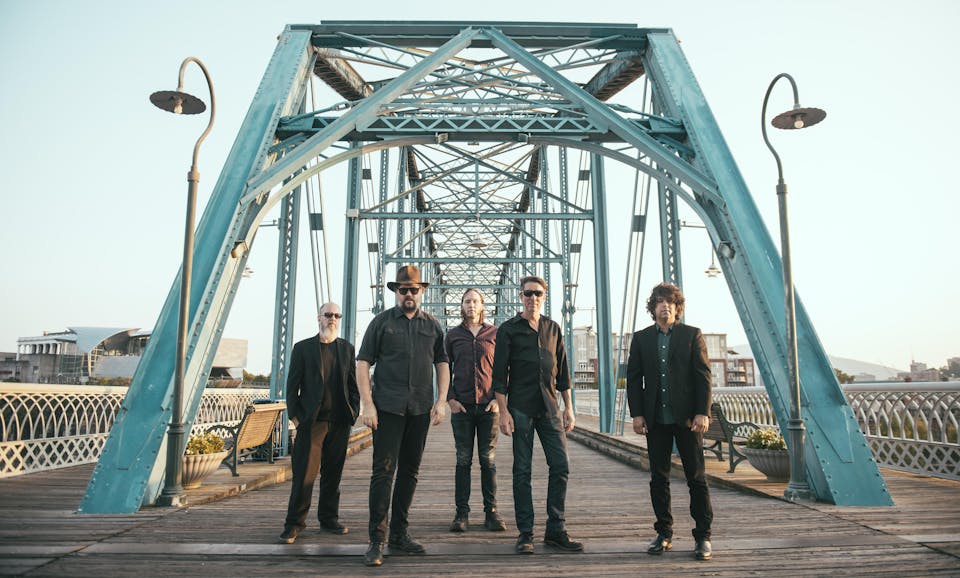 Drive-By Truckers
Kelsey Waldon
The Regent Theater
Los Angeles
,
CA
.
Drive-By Truckers is kicking off the new election year with The Unraveling, our first new album in 3 1/2 years (the longest space between new DBT albums ever). Those years were among the most tumultuous our country has ever seen and the duality between the generally positive state of affairs within our band while watching so many things we care about being decimated and destroyed all around us informed the writing of this album to the core.
While a quick glance might imply that we're picking up where 2016's American Band album left off, the differences are as telling as the similarities. If the last one was a warning shot hinting at a coming storm, this one was written in the wreckage and aftermath. I've always said that all of our records are political but I've also said that 'politics IS personal'. With that in mind, this album is especially personal.
Our 2018 single "The Perilous Night" acted as a sort of coda to the polemic of the last album and the original plan was to zigzag in a different direction, but alas the past few years have seen an uptick in school shootings, church shootings, racial violence, suicides and overdoses, border violence, and an assault on so many things that we all hold dear. They're literally putting children in cages. Writing silly love songs just seemed the height of privilege.
My partner Mike Cooley and I both worked through deep pools of writer's block. How do you put these day to day things we're all living through into the form of a song that we (much less anybody else) would ever want to listen to? How do you write about the daily absurdities when you can't even wrap your head around them in the first place? I think our response was to focus at the core emotional level. More heart and less cerebral perhaps.
Eventually the songs did come, some in mysterious ways. A day-long layover at an exit outside of Gillette, Wyoming resulted in "21st Century USA", the song that for me opened up the floodgates, enabling me to write my portion of the album.
I wrote "Babies in Cages" in the living room of my wife's parent's house and quickly demoed it on my phone. A portion of that original recording acts as the introduction to the version on the album. Cooley wrote "Grievance Merchants" about the proliferation of white supremacist violence we've seen in recent years. Our family's babysitter's best friend was murdered on a train in beautiful progressive Portland, Oregon in one such incident. The political is indeed very personal.
"Armageddon's Back in Town" takes a whirlwind joyride through the daily whiplash of events we are collectively dealing with, while "Slow Ride Argument" offers an unorthodox but hopefully effective method of the prevailing of cooler heads. Perhaps it should come with a disclaimer though.
Meanwhile "Awaiting Resurrection" dives headfirst into the void of despair and painful realities these times are tolling. It's a song unlike any in our band's history, yet somehow quintessentially DBT to the core. A call to deal, unblinkingly, with the horrors surrounding us all, but to also survive, with perhaps even a hint of optimism.
"In the end we're just standing, watching greatness fade into darkness /
Awaiting Resurrection"
If the writing was a long and brutal process, the recording was a joyous celebration. Another of our band's many dualities, perhaps.
We convened for a week in Memphis, Tennessee at the historic and wonderful Sam Phillips Recording Service. We tracked, mostly live in the studio, aided by long-time producer David Barbe and famed engineer Matt Ross-Spang. Initially recording 18 songs in 85 hours of near around the clock sessions, the band essentially spent the whole week in an artistic marathon, housing ourselves at the Memphis Music Mansion (AirBnB), surrounded by historic photos and a mid-century vibe that seemed to even seep into our dreams each night. (My bedroom was, fittingly, The Big Star Room, named after the seminal Memphis power pop band that I have always held as an all-time favorite).
Recording in Memphis has been a life-long dream for this band. Both the city, with its dark social history and amazing musical heritage, and the studio which is a time machine set to its early 1960's origins and inhabited by the spirit of its genus founder, affected and inspired the creation of this album in ways that go far beyond the tangible and technical.
Sam Phillips left my hometown of Florence, Alabama and moved to Memphis, working in radio before opening the legendary Sun Studios (Memphis Recording Service) where he essentially discovered Rock and Roll, recording the first records of Howlin' Wolf, Ike Turner, Johnny Cash, Carl Perkins, Jerry Lee Lewis, Charlie Rich, and of course Elvis Presley. When he sold Sun, he built his dream lair, the, then state of the art Sam Phillips Recording Service which opened in 1962. If Phillips' love of 'slap-back' echo had given those early Sun records their legendary sound, his new studio incorporated three different echo chambers into its design, giving the studio a very unique and wonderful sound that we incorporated into this album.
I can't impart enough the impact that recording there had on this album. We were all beyond inspired by the surroundings and the sounds coming out of the speakers from every playback or the sound of the echo chambers reverberating down the halls. Every day we got to hang out with Sam's son Jerry who took us up to Mr. Phillips' old office on the third floor. Unlocked in time, it was still exactly as it had been the last day Sam spent there. His jackets still hanging in the closet and the bar still stocked with his favorite whiskey. There, with Jerry, we toasted our recordings and the spirits that still inhabited that sacred space.
In honor of finally getting to record in Memphis, I wrote "Rosemary with a Bible and a Gun", a sort of stream of conscious love song to that dark and mythical city on the banks of the Mississippi. Although the song isn't a literal story of such, it was certainly informed by the brutal times Cooley and I had in 1991 when we followed Sam Phillips' example and moved from Florence to Memphis in search of dreams that for us were still to be over a decade in coming. I heard the song in my head as a sort of Bobbie Gentry inspired southern gothic and we further explored that by adding gorgeous strings by Kyleen and Patti King (arranged by Kyleen). It seemed the perfect way to kick off this album.
Our sessions were rounded out by a guest appearance from Cody Dickinson (North Mississippi All Stars) who came in and played an electric washboard through an Echoplex and wah-pedal into an amp for "Babies in Cages". The song, recorded completely live, in one magical take, perfectly captured the mood and tone of the week we spent there. (We even kept the scratch vocal since it had so much live bleed from the take). The following day, Mick Jagger came by, but alas we weren't able to record with him, although his presence certainly added to the already surreal vibe of the week.
A few months later we reconvened in Athens, Georgia at Barbe's Chase Park Transduction studios where Matt and David mixed the album on Barbe's vintage 1975 Neve console. As a band that got its start essentially making albums as field recordings on mobile gear, it is indeed a treat to get to make our albums on 2" 16 tracks tape in historic studios and on beautiful vintage gear. We finished the process by having the legendary Greg Calbi master it all at Sterling Sound in Edgewater, New Jersey.
In the end, we whittled the album down to the nine songs included, saving several key songs for a foundation to the next one that will hopefully occur sooner than later. Lilla Hood designed the packaging utilizing a stunning photo by Erik Golts of two young lads watching a sunset at the Oregon coast, lettering by famed graphic artist Aaron Draplin, and once again beautiful artwork from our long time collaborator Wes Freed. We plan on touring extensively throughout the next year taking these songs around the world.
We hope to see you there.
- Patterson Hood
Over the past seven years, Kelsey Waldon's life has changed drastically. Since moving to Nashville, she's found her place in a lush, supportive, and versatile artist community. She's released two albums, played with some of music's biggest names, and toured nationally. She made her debut performance on the Grand Ole Opry at the hallowed Ryman Auditorium, and she's already been bestowed with one of Nashville's highest honors: playing the historic Station Inn, the go-to spot of the 70's, where intimate, post-Opry jam sessions were hosted by legends like Jimmy Martin, Bobby Osborne, and Bill Monroe. While most musicians work a lifetime to achieve that status of success, Kelsey Waldon's talent has earned her way to the top in a matter of years. And even though she traded her small town for the city, she's making moves in country.
Straddling the junction of the Ohio River and the Mississippi, Waldon was born in Ballard County, Kentucky, and raised in one the county's even smaller, unincorporated communities, lovingly named Monkey's Eyebrow. The destination has been spotlighted by NPR and Roadside America, but the Western Kentucky town is about as "rural America" as it gets. Waldon's family roots in the Bluegrass State date back over ten generations, from tobacco farmers to cattle raisers, and a general cast of real strong-spirited characters. "Farming and planting tobacco were some of the first jobs I had growing up," she says; but dating back even farther, to some of her very first memories, is her relationship with music. Inspired by 'a melting pot of influences', Waldon took notes from a wide variety, spanning from legends like Merle Haggard and Mavis Staples, to bluegrass luminaries Ralph Stanley and Ricky Skaggs, and songwriting greats John Prine, Bob Dylan, and Townes Van Zandt. When she picked up the guitar at 13, she never looked back. "I finally felt like I was a part of something when I started playing and writing music. It was something that finally made everything make sense, and it was a very essential and healthy thing for me during my younger years, and still is."
While Waldon faced a multitude of obstacles during adolescence, music always remained a constant source of stability in her life — and out of that adversity, she crafted a distinct sound that meets at the juncture of classic country, bluegrass, soul, R&B, and rock and roll. "I wasn't one of those kids that applied for college or probably even took it very seriously upon graduating high school. I wanted to do things my own way, so I didn't go to college and I moved to Nashville, on a whim really," she says. Despite her initial feelings, Waldon ended up at Belmont University, studying Songwriting and Music Business, and became the first person in her family to graduate college. While working toward her degree, she played gigs at 'any bar that would let her in the door and on the stage' and worked 45+ hour work weeks at a minimum wage job. After graduating, Waldon continued playing local dive bars and venues, including one of Nashville's most famous honky-tonks, The Palace, where she also worked as a bartender.
Waldon's traction skyrocketed with the release of her debut LP The Goldmine, which The Fader dubbed as "the brightest country debut of 2014". Relix claimed it was "dripping with the most sought-after currency of authenticity." The album was named one of Rolling Stone's "10 New Artists You Need To Know: Summer 2014," with journalist Marissa Moss calling Waldon, "Tammy Wynette on a trip to Whiskeytown, as unafraid of heavy twang and spitfire pedal steel as coffeehouse confessionals."
By the time I've Got A Way hit in 2016, she had established herself as one of Nashville's founders of the female-pioneered twang revival — a movement that is quickly redefining the modern country music narrative. Her sophomore album ranked on two of NPR's most-acclaimed lists of the year; Fresh Air host Ken Tucker's "Top 10 Favorite Albums of 2016" alongside Beyonce, Miranda Lambert, and Stax legend William Bell. The album's shining single, "All By Myself" was named on their list of "Top 100 Songs of 2016." The video for the single, filmed in her hometown of Monkey's Eyebrow, was featured on Rolling Stone Country and Billboard. One of the most notable supporters of I've Got A Way was Ann Powers, who admired the record's "delightfully direct language and delivery enhancing vivid musical settings that demonstrate her vast understanding of the traditions she mines." Powers went on to praise Waldon's unique talent in NPR's First Listen, saying, "It's the immediacy of her storytelling, utterly unsentimental yet deeply heartfelt, that makes Kelsey Waldon a queen of the cool rejoinder and an all-around contender."
Since the release of I've Got A Way, she's been busy touring the country — sometimes solo, but more often than not, with a tight-knit band of extremely talented musicians. But despite the fame and notoriety she's seen in the past three years, Waldon remains humbled by her success. "I've spent a huge majority of my life studying my favorite records, my favorite songs, and my most-favorite singers," she says, adding, "You never stop learning or gaining from it. I'm still doing it all the time… all the while still writing my own story and hopefully becoming an entity in my own right." If one thing is set in stone with Kelsey Waldon, it's that she does have a way — and it's straight up from here.
EVENT DATE, TIME, TICKET PRICE, AND LINEUP ARE SUBJECT TO CHANGE.
The maximum number of tickets available per purchase for each event is the maximum number permitted per customer. Your name, credit card, address, and email address will be verified. Spaceland Presents/The Regent or Eventbrite reserve the right to cancel any orders in excess of the stated ticket limit.
Any tickets suspected of being purchased for the sole purpose of reselling can be cancelled at the discretion of Spaceland Presents/The Regent or Eventbrite.
Be the first to find out about all the new shows at Regent, Echo + Echoplex, and all the other cool shows we have throughout Los Angeles by visiting our website: spacelandpresents.com!
Plus Unlock promo codes for presales to our upcoming shows by signing up to Spaceland's weekly email blast!