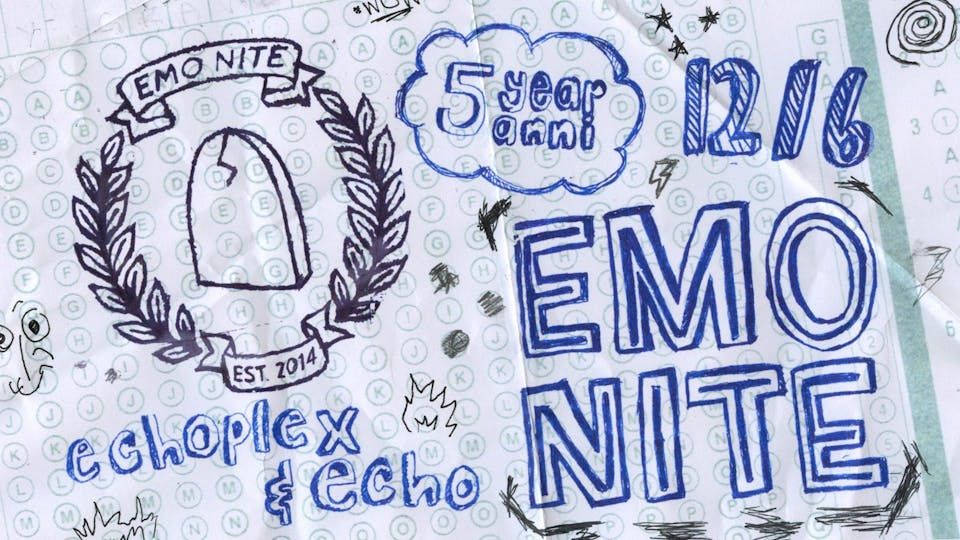 EMO NITE: CLASS OF 2019
Echo + Echoplex
Los Angeles
,
CA
$35.00 - $3999.00
Tickets At The Door
GENERAL ADMISSION TICKETS AVAILABLE AT THE DOOR FOR $35
To The Emo Nite Class of 2019:
Wow, What a journey it's been! The past 5 years have been a whirlwind. From the songs once played off an iPad at the short stop for dozens, to our own full scale music festivals with thousands. From merch drops to merch flops, and surprise guests galore — we've been through it all. And you, the class of 2019, have emerged as a group of extraordinary people, talented leaders, with a bright future.
As great poet James Adkins once said "It just takes some time, little girl you're in the middle of the ride, everything, everything will be just fine." We may just be in the middle of the ride, but wow 5 years sure does feel like a milestone!
We invite you to join us to celebrate this milestone on December 6th, 2019 in Los Angeles, CA at the echo & echoplex. We are programming all 4 stages at the echoplex with incredible surprises to celebrate your commencement into the world. Don't miss a stop by the echoplex patio, where all the cool kids will be hanging out at the Bumble After School Social Club. And don't forget to get your class photo taken at the aura photo dome inside the plex.
Who will be there? The possibilities are endless, but if theres one thing you should have learned at your time at Emo Nite is to always trust us. We promise you, this nite will be one you never forget. Remember students, make good choices, push yourself, buy those tickets, and join us on 12.6 for the time of your life. Three cheers for five years!
- Ricky The Principal