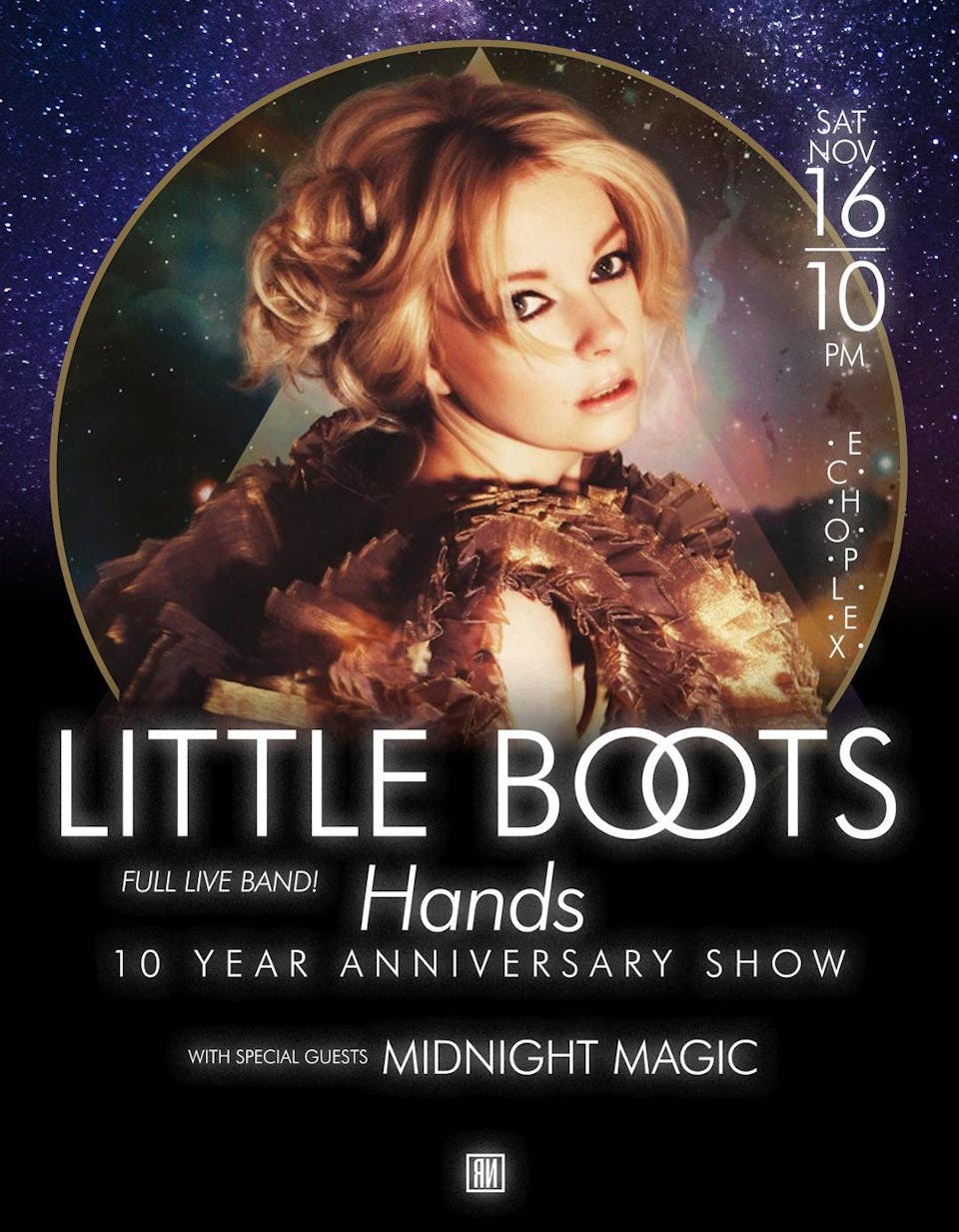 The Echo & Restless Nites Present
Little Boots
Midnight Magic
Echoplex
Los Angeles
,
CA
$19.00 - $22.00
Sales Ended
Little Boots performs her seminal Hands album live for its 10th birthday, with special guests, Midnight Magic!
LITTLE BOOTS 'HANDS' 10 YEAR ANNIVERSARY SHOW
To celebrate the decade anniversary of Little Boots' iconic debut album 'Hands', VictoriaHesketh and original live band will reunite to play the album start to finish for the veryfirst time, coinciding with a special vinyl reissue of the record and a new companiondisc of rarities and unreleased demos.
Making headlines and chart topping hits since she first emerged in 2008, Little Boots won the respected BBC Sound Of poll and a Brits Critics Choice nomination just a year later. Fusing massive pop hooks onto otherworldly electronic soundscapes
it showed a pop star willing to experiment, and her debut album 'Hands' reached the top
5 in the UK album chart and was quickly certified Gold.
Her electrifying live show gained a reputation, pushing boundaries with ground breaking instruments and synthesizers such as the Tenori-on and Laser Harp, culminating in memorable live performances to huge crowds at Glastonbury and Coachella to name a few, consolidating her as one of the era's most enduring and beloved electronic heroines.
Freeing herself of the major label machine she went onto found her own label On Repeat Record, and independently released two more critically acclaimed albums. In 2017 she received a Grammy nomination for Best Electronic Album for her collaboration with Jean-Michel Jarre on the lead single for his latest record.
The 'Hands' anniversary tour will feature all tracks from the original record, some of which will be performed live for the very first time, plus a selection of fan favourites from the later records, and special intimate stripped down versions arranged by Victoria.
Of the anniversary Victoria said
"I'm so touched at the overwhelming response to the 10 year anniversary of Hands. I initially floated the idea of doing something commemorative on my socials earlier this year and the reaction from fans was just so huge I had to do something about it! I'm really excited to be able to share some never heard before tracks from this period, as well as performing a special live show of the album start to finish for the first time. I'm so proud of this record and its so special that it meant so much to so many people. I can't wait to share it with my fans again."