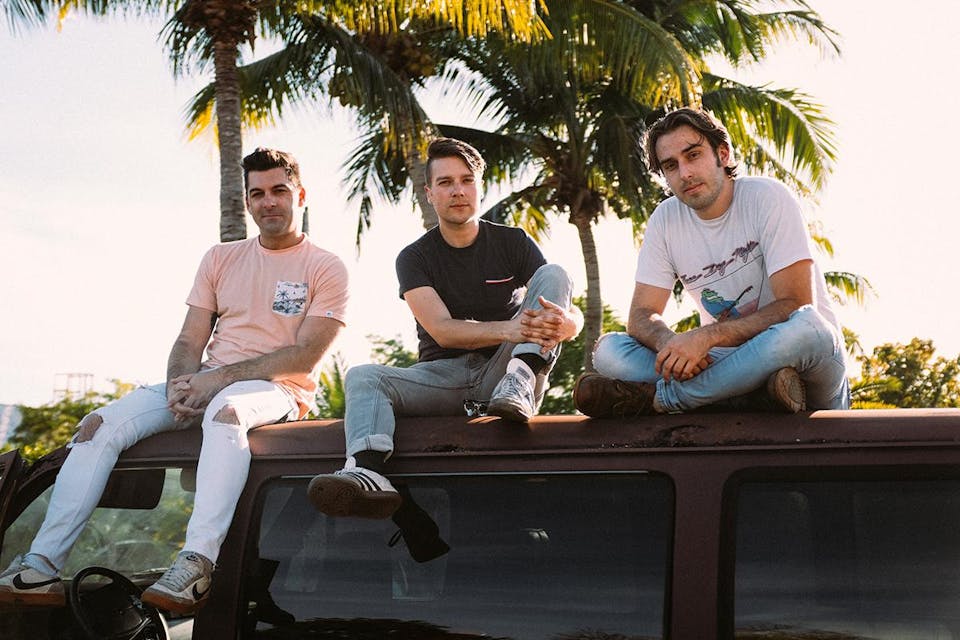 Magic City Hippies
The Palms, Maye
The Regent Theater
Los Angeles
,
CA
.
If you're playing in Miami, you've got to get bodies moving.
Over the years, the city has been home to Latin pop royalty and ascendant Soundcloud rappers; played host to bass-booming EDM fests and the golden years of disco legends. It's also why Miami's latest genre-defying dynamos, Magic City Hippies, are primed to take their infectious indie-funk around the world.
"We're always out to entertain people," promises singer-guitarist Robby Hunter. "Miami is a nightlife city," he adds with a tinge of excitement. "People are oriented towards staying out all night. Anything you do has to make them dance."
As Magic City Hippies approach the Aug. 16 release of their standout debut album Modern Animal -- a mosaic of poolside grooves and lingering, sun-kissed melodies -- the trio's origin story remains central to its crowd-pleasing mission statement.
First it was just Hunter -- hustling the Miami streets, plugging his guitar and looping pedals into whatever power source he could find. Sometimes crowds formed; sometimes others joined in. On a good night, he'd maybe earn a hundred bucks. The next stop was Barracuda Bar & Grill, a popular Coconut Grove dive where Hunter became a regular performer and forged a sublime chemistry with the rest of Magic City Hippies' present day lineup: guitarist John Coughlin and drummer-producer Pat Howard. They began playing '90s rock and hip-hop covers to weekend warriors and college crowd regulars, before live-testing their first original tracks in 2011. "There was something special when we played those sets," Howard remembers. "We'd go for four hours, not even rehearsing. Then Robby came to the table with some originals."
The easygoing psych-rap nugget "Corazon," released when they were still called Robby Hunter Band, shot to No. 1 on the Hype Machine in 2013; after shifting to Magic City Hippies, "Fanfare," the swaggering opening track off 2015's Hippie Castle EP, topped Spotify's Global Viral 50 chart, thanks to a burgeoning online fanbase. With brothers Ferny (keyboard) and Guillermo Belisario (bass) added to a now-indomitable live lineup, Magic City Hippies embarked on extensive tours supporting bands like Hippo Campus and Moon Taxi. Crowds doubled and tripled, confidence soared. Still unsigned and completely independent in their approach, Magic City Hippies pushed distractions aside and worked tirelessly towards their first LP.
"We've been touring for three years," Hunter says. "The album has a lot to do with the toll it's taken on our relationships and lives." No kidding: Robby was fired from a full-time job and ended a relationship of over eight years. Swirling single "SPF" comes to terms with a cheating partner through beams of Toro Y Moi-inspired Auto-Tune and bass licks. "What Would I Do" rides a catchy bossa hook towards the sonic equivalent of a Miami sunset. The sultry "Modern Animal" explores the liberation of open relationships through an irresistible Tame Impala rhythm and a safari of synthesizers. Clearly, inspirations abound -- Hunter occasionally raps a la Odelay-era Beck or Anthony Kedis when he's addicted to the shindig -- but their self-described "indie funk" sound remains uniquely their own. "People always say it's hard to find another band we sound like," Howard says. "I'm proud of that -- any song could be a single."
Modern Animal is set to crown Magic City Hippies as one of streaming's ascendant indie bands, while taking their captivating live show to major festivals like Lollapalooza, Bonnaroo, and BottleRock, alongside plenty of North American headline gigs through 2020.

With hints of West Coast Psychedelia, Hip Hop, Folk and more, The Palms have effortlessly combined their love of ALL popular music to create a fresh, uplifting sound, resulting in the perfect soundtrack to a summer night in Los Angeles. The need to makemusic without barriers or inhibitions is what initially inspired Johnny Zambetti and Ben Rothbard to explore artistic ideas outside of their band Terraplane Sun. Before they knew it, The Palms were born.
From there, the band started to make their presence known. After reaching #1 on the HypeMachine Most Popular Track's list, being featured in publications such as Interview Mag, and charting on KCRW's MBE and Spotify's Viral UK charts, the band knew that their music was connecting with listeners in a positive way. Over 50 Million of streams and Youtube views later, The Palms have made it clear that they're here to stay and the momentum is only intensifying.
After spending the back half of '18 in the studio with Rob Schnapf (Beck, Kurt Vile, Elliot Smith etc.), The Palms are poised to make 2019 their biggest year yet, with the release of their upcoming EP, Televised Daydream and a national headlining tour to follow.
The Palms unmistakeable sound, style, songwriting and DIY approach has helped create their distinct place in today's musical landscape. It is the message behind their songs however, that The Palms hope will make the greatest impact. Nina Simone said it best.."How can you be an artist and not reflect the times."
"The Palms have shifted toward creating music that is as catchy as pop, yet melded with poignant elements of blues, hip-hop, rock, and reggae. Rothbard's distinct vocals also invite the listener into each track, allowing the duo's intended messages to come through while simultaneously leaving space for individual interpretations."
EVENT DATE, TIME, TICKET PRICE, AND LINEUP ARE SUBJECT TO CHANGE.
The maximum number of tickets available per purchase for each event is the maximum number permitted per customer. Your name, credit card, address, and email address will be verified. Spaceland Presents/The Regent or Eventbrite reserve the right to cancel any orders in excess of the stated ticket limit.
Any tickets suspected of being purchased for the sole purpose of reselling can be cancelled at the discretion of Spaceland Presents/The Regent or Eventbrite.
Be the first to find out about all the new shows at Regent, Echo + Echoplex, and all the other cool shows we have throughout Los Angeles by visiting our website: spacelandpresents.com!
Plus Unlock promo codes for presales to our upcoming shows by signing up to Spaceland's weekly email blast!