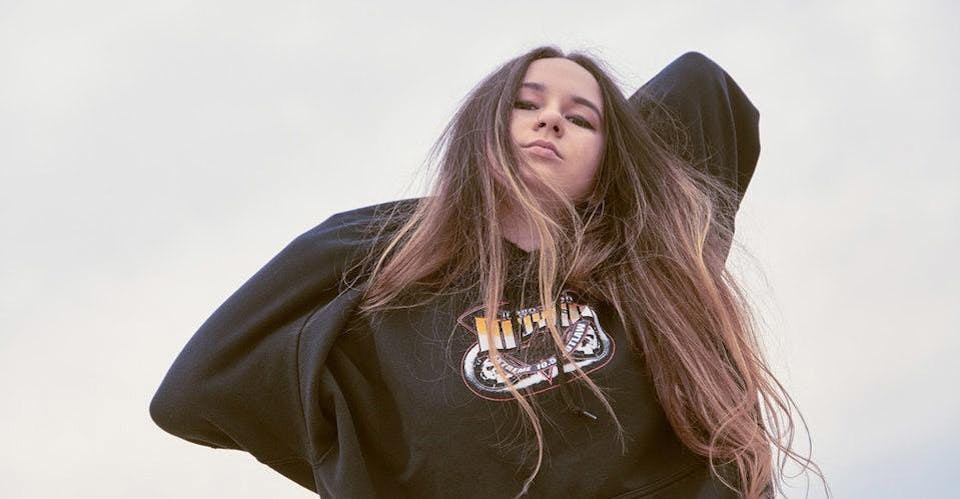 MALLRAT, Allday
The Echo
Los Angeles
,
California
Japanese Wallpaper, Allday, Japanese Wallpaper
MALLRAT
Bio"Hannah Montana of the rap game."
It's the tongue-in-cheek moniker that Mallrat (aka Grace Shaw) gave herself. It's the best description that the then 16-year-old could ascribe to the bright, bouncy pop she made inspired by her rap heroes like Allday, Drake and Kanye.
Much of her huge appeal can be attributed to the seemingly effortless and irresistible approach Mallrat has to her craft. Whether it's her music, her effervescent stage shows, her bold and striking fashion choices, or her witty and funny online presence (with strong cameos from her dog/co-star on the rise Charlie), it has all combined to amass a huge audience from Melbourne to Mexico City. With refreshingly honest observations of day-to-day life, her relatable and confessional lyrics, her penchant for cooking up simple yet sticky melodies, there's not much that separates Mallrat from her fans, as she makes it all seem so easy. Even her origin story is the stuff dreams are made of.
"It all changed at an Allday concert," says Mallrat, remembering the Brisbane concert she attended as a tween. "He was someone I felt like I could relate to."
That performance saw Mallrat heading home feeling inspired; and soon after she recorded her very first attempts at making her own music. It wasn't long before she was finding collaborators to help build the foundations of her 2016 debut EP, Uninvited. The EP would go on to fetch millions of streams and launch her career – first via indie incubator Create/Control, and nowadays via full-fledged label deals. It's stand out tracks – Zane Lowe favorite "Uninvited" and the dreamy jam "For Real" – that saw her stocks take off. Praise came from radio (Triple J, BBC and Beats 1), major music outlets (Rolling Stone, Stereogum, Idolator, NME, Vice), celeb gossipers (Perez Hilton), celebs themselves (Lorde, Chloe Grace Moretz, Brooklyn Beckham), all the way to global tech giant Google, who used "For Real" in a recent ad campaign.
Since then, Mallrat has played pretty much every Australian festival you can think of – Splendour In The Grass, Falls, The Plot, Listen Out, Beyond The Valley, Come Together, St Kilda, Live At The Steps – and supported some of the biggest names in music, including Post Malone, Allday, Peking Duk, and Maggie Rogers. And that's not even counting the regularly sold-out love affairs that are her headlining shows.
"I feel like the kindest, most positive people come to my shows," says Mallrat. "Everyone's just dancing, no-one's too cool for anything, everyone feels welcome. I'm up there dancing, I've got my friend from school [the Daria-esque DJ Denim] and I think it's so good because you'll meet a new friend there."
Latest single "Better" gained instantaneous and widespread praise, garnering write-ups from The New York Times, international radio play, and millions of more streams. The anthemic follow up "UFO," features her former hero/turned friend and collaborator, Allday. "I feel like we're two peas in a pod, so it's pretty amazing that we can work together. I don't know if there are a lot of other vocalists that I would feel comfortable asking to be on my songs, just because I feel like the lyrics are so personal to me. But because he's such a close friend and we always get where each other are coming from, it felt perfect for the song."
And as for Mallrat – well, she just wants to make music that you can relate to. "I hope that it makes someone feel more relaxed after a weird day and they can just feel calm. I think it's amazing when music can make you feel something and I've tried to do that."
Allday
Allday is known for being nobody but himself. After a string of successful self-released singles, EPs and mixtapes, the LA-via-Melbourne Australia rapper dropped his debut album, 'Startup Cult'. The record landed him a number 3 spot on the ARIA Charts - falling behind to only SIA and Ed Sheeran - and spawned hit singles in 'Right Now' and 'You Always Know The DJ', and caught the ear of seasoned tastemakers like Sway Calloway, Complex, and Pigeons & Planes. It's safe to say that 'Startup Cult' has fixed Allday firmly in the hearts of music lovers: the LP scooped up over 22 million streams and sold over 20,000 units just at home. It's success has seen Allday headline festivals, tour the USA and completely sell out multiple Australian tours in a snap. A couple of features (Troye Sivan, Asta) and a mixtape or two later, and Allday's latest giving is 'Raceway' - lifted from a highly anticipated new full-length set for an April 2017 release, and setting off sparks of excitement amongst his 500,000+ social media followers.
EVENT DATE, TIME, TICKET PRICE, AND LINEUP ARE SUBJECT TO CHANGE. Support acts are subject to change.
The maximum number of tickets available per purchase for each event is the maximum number permitted per customer. Your name, credit card, address, and email address will be verified. Spaceland Presents/The Echo or Eventbrite reserve the right to cancel any orders in excess of the stated ticket limit.
Any tickets suspected of being purchased for the sole purpose of reselling can be cancelled at the discretion of Spaceland Presents/The Echo or Eventbrite.