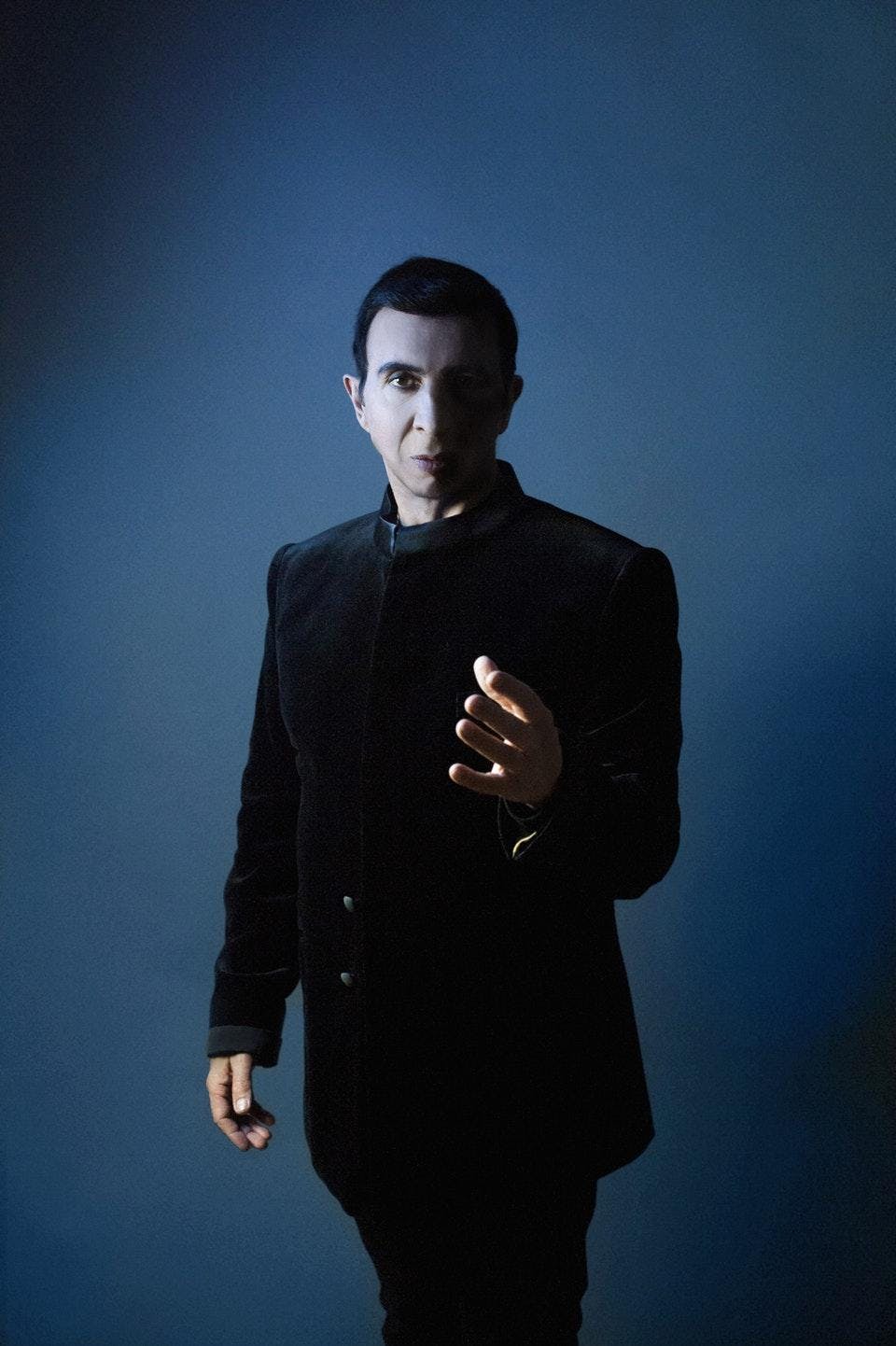 Sex Cells & Spaceland Present
Marc Almond
Dita Von Teese
Palace Theatre
Los Angeles
,
CA
$60.00 - $125.00
Sales Ended
.
FACEBOOK | INSTAGRAM | TWITTER
Marc Almond is an internationally acclaimed and successful artist. He has sold over 30 million records worldwide and is an icon and influence to a generation of musicians.
He was born in Southport, a seaside town in the north of England, in 1957. After an unsettled childhood of moving to Harrogate, Leeds and back to Southport, of illness and learning difficulties he finally left school at 17 with few qualifications. As a teen he worked in Southport Theatre and on Southport fairground while singing in a local band, covering hits of the day. After school he spent five years at art college including a three year Fine Art BA course at Leeds Polytechnic where he left in 1979 with a BA Honors. At art college he developed his style of mixing experimental performance and cabaret pop with music and film studies. He began visiting London and worked in Soho during college breaks, documenting his experiences in his early performances; Zazu, Twilights and Lowlifes and Glamour in Squalor. It was at Leeds Poly that he met David Ball and together they formed the internationally successful 'electro duo' Soft Cell in 1979.
Soft Cell were signed to Stevo's underground label Some Bizzare and licensed to Phonogram as part of the new electronic music phenomena. They went on to record four albums; three in New York including the iconic seminal Non Stop Erotic Cabaret, and had a number of top ten hits including the international classic Tainted Love. Tainted Love broke all records as the track that remained the longest in the US Billboard Top 100 and received a Brit award for best single of that year. Soft Cell's arrangement of the track has been covered many times by artists as diverse as Marilyn Manson and The Pussy Cat Dolls and has been sampled by a generation of dance producers for artists, notably Rihanna's SOS.
Soft Cell parted amicably in 1984 to pursue solo projects. Marc had already branched out with Marc and the Mambas, a loose collective of musicians, and recorded the innovative influential double album Torment and Toreros which Marc has called 'a nervous breakdown put to music'. Mambas shambolic and florid musical shows put Marc in a unique musical place that had one foot in mainstream and the other in the underground. Marc has always been one of very few artists able to comfortably move from one to the other. Torment and Toreros was influenced by Spanish Flamenco, Marc has always used World Music influences in his music from Turkish torch songs to Brazilian Macumba and Russian folk. The Mambas use of a full string section inspired a young Antony Hegarty later of Antony and the Johnsons. Antony has always openly cited Marc as the person that without whom it would not have been possible for him.
The Mambas started Marc on his path as a chansonierre troubadour, a singer of the songs of others that he would make his own, Jacques Brel, Scott Walker, Lou Reed, Juliette Greco, Nico, Syd Barrett - all early influences of Marc. Marc has said that his style comes from Jacques Brel and Marc Bolan glam with a bit of Aznavour and Johnny Ray thrown in, add some 60's Joe Meek and Orchestral Pop and some 60's Northern Soul, a pinch of Music Hall and you have something approaching Marc. It is this mix of styles that have made him hard to pigeonhole, but also totally unique. He has been called over the years The Judy Garland of the Garbage Heap, The Acid House Aznavour, Jim Reeves of the Bedsit Generation, Marc Bolan and Juliette Greco's love child and Britain's own Piaf.
A diverse and acclaimed successful solo career followed with over a dozen albums including Vermin in Ermine, Mother Fist and Her Five Daughters, Enchanted, Open All Night and Stranger Things, and a number of solo chart hits including Tears Run Rings, Stories of Johnny, A Lover Spurned, Adored and Explored, Jacky, The Days of Pearly Spencer and Child Star. In 1989 Marc had another number one, a duet with 60's legend the late Gene Pitney, a cover of one of Gene's hits Something's Gotten Hold of My Heart. It was number one in Britain for five weeks. The album it came from, The Stars We Are, was Marc's most successful solo album in the USA.
Marc has worked with a number of acclaimed producers including Mike Hedges, Trevor Horn and Marius DeVries as well as more experimental producers such as Iceland's Johann Johannsson. He's also had licensing deals with a number of major labels including Phonogram, EMI. Warners, Universal, Rough Trade, Echo, Tres Bis XIII, Sanctuary and Virgin.
In 1987 he recorded two sister albums, one of French Chansons Absinthe, specially translated songs made famous by Juliette Greco, Barbara, Leo Ferre, Robert Nyal and poetry of Rimbaud put to music and an album of Jacques Brel songs, many never sung in English before, called Jacques. The estate of Brel cited him as being the best living interpreter of Brel's songs.
In 2000 Marc worked briefly again with David Ball on a Soft Cell tour and an album, Cruelty Without Beauty. Critics and fans were warm and welcoming, and they even reached the top 40 with a hit, a cover of Frankie Valli's The Night a song they nearly recorded back in 1981 instead of Tainted Love.
In 2000 Marc went to live in Moscow and was invited to record a project of music that has become dear to his heart, Russian Folk and Gypsy Romance. Produced by Russian musical prodigy Andrei Samsonov, Heart On Snow features collaborations with some of Russia's biggest musical legends and stars, the icons of Russian folk Luydmila Zekina and Alla Bayanova, Boris Grebenchikov, Ilya Lagutenko as well as the Russian Naval Choir and the famous Rossiya Folk Orchestra. Although largely ignored in the West, Marc looks on this album as one of his most successful records. It was an adventurous and highly creative project never before undertaken by a Western artist, and it has taken him back to Russia many times to perform in public and in private beloved Russian songs to Russians. He has been dubbed in the Russian press, 'adopted son of Russia'.
Marc was going through a musical renaissance in 2004. He had performed a residency of shows at London's Almeida Theatre that had received unanimous, glowing praise from both critics and audiences alike, when he was seriously injured in a motorcycle accident. He was in a coma for two weeks and sustained near fatal injuries that took the next few years to recover from. Marc has overcome many obstacles and ups and downs in his life, including drug addiction, and it was one more battle, but the motorcycle crash was his hardest fight. He had to learn to sing again with the help of top vocal coach Mary Hammond, and regain his shattered confidence. After Antony Hegarty bought him back on stage as a surprise guest at his London show in 2005, he began to slowly gain vocal and physical strength and today he is performing and singing better than ever.
He returned to the studio to record Stardom Road, an album of songs that had been part of his life and, in a way, told his story. It was produced by long time friend Tris Penna and Marius de Vries and with guests Antony, Sarah Cracknell and Jools Holland. Marc, still not back to full strength at the time of recording, looks on this album as his recovery album. It was well received by critics and fans and Marc's music was re-discovered and re-appraised. Marc undertook a number of short appearances, at Patti Smiths Meltdown performing Brecht, Marc Bolan The Celebration where he performed with legendary producer Tony Visconti and made an appearance for the first and only time with original Tainted Love singer, and Marc Bolan's partner, Gloria Jones on a duet of the classic song, tribute shows to Sandy Denny the late great folk artist and one of Marc's favourite singers, and Dusty Springfield for the BBC backed by a 70 piece orchestra, and with Current 93. Marc was also a special guest singer on Jools Holland's 2006 and 2008 tours. Marc is a regular guest and collaborator with Jools and his Rhythm and Blues Orchestra. He gave a lifetime achievement award to The Doors at the 2007 Mojo Awards. He also made various DJ and PA club appearances - all to help build his stamina and confidence after his crash. 2008 saw him back performing full sell-out shows in Britain, Europe and Russia. To celebrate his full return to the stage he performed a retrospective show on his fiftieth birthday to ecstatic fans.
Marc has enjoyed many diverse collaborations during his career, Nick Cave, Siouxsie, Nico, Jools Holland, Bronski Beat, Rosenstolz, John Cale, David Johannson, Kelli Ali, Current 93, Coil, PsychicTV, Antony and the Johnsons, Baby Dee, Little Annie, Matt Johnson, Jim Thirwell, Ferry Corsten, 60's icons Gene Pitney and PJ Proby whom he produced an album for in 1998 entitled Legend. Marc has written many songs but prefers to sing songs by other writers and artists, saying it frees him from his own baggage allowing him to express the things he wants to, in sometimes a better way than he can write himself.
He still enjoys occasionally working in electro Dance music, collaborating with underground Dance producers, though his true heart lies in the marathon Chanson, folk and 'twisted pop cabaret' shows he calls the Sin Songs Torch and Romance Shows. These shows have been recorded in 2004 at London's Almeida Theatre and in 2008, the double live album/DVD, Marc Almond in Bluegate Fields Live at Wilton's Music Hall, was released showcasing Marc back at his best as a live performer and curator of song. These recordings along with 1992's Twelve Years of Tears at The Albert Hall are the best testaments to Marc in concert.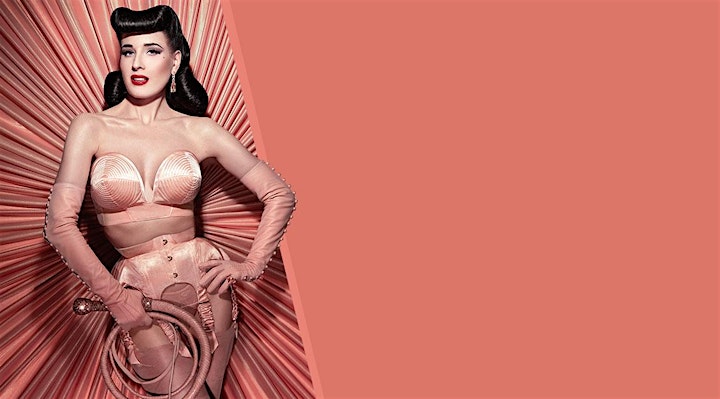 FACEBOOK | INSTAGRAM | TWITTER
Born Heather Sweet in West Branch, Michigan, Dita Von Teese grew up fascinated by the Golden Age of Cinema, pin-up imagery, and vintage lingerie. This naturally blond, mid-western girl then transformed herself into a glamour girl like those she admired. Performing striptease since 1992, she is the biggest name in burlesque in the world since Gypsy Rose Lee and is credited with bringing the art form back into the spotlight with a new sense of elegance and sophistication.
Taking audiences on a journey into fantasy and spectacle, Dita is renowned for her ornate sets and dazzling haute-couture performance costumes adorned with hundreds of thousands of Swarovski crystals. This "Burlesque Superheroine" (Vanity Fair) is the performer of choice at high profile events including those for designers such as Marc Jacobs, Christian Louboutin, Louis Vuitton, Chopard, and Cartier, and was the first guest star in history at Paris' famed Crazy Horse (established in 1951) where she has performed several sold-out runs. Dita also brought burlesque to prime time television in the States when she appeared as a guest star on CSI and performed her classic Martini Glass show in one of their highest rated episodes to date which was billed as "too hot to handle."
In addition to her burlesque shows, Dita is a self-styled fashion icon, topping best-dressed lists all over the world. Featured on Vanity Fair's International Best Dressed List 2013, Dita has recently expanded into her own distinct brands. Her lingerie collection debuted exclusively with Bloomingdale's in the U.S. in March 2014, and has expanded to other popular U.S. retailers such as Nordstrom, Dillard's, Barenecessities.com and Journelle. It is also available internationally in prominent retailers such as Myer in Australia, as well as globally via online sites Glamuse.com, and asos.com.
She also recently launched Dita Von Teese Eyewear, a collection featuring 10 styles ranging from classic cat-eye to edgier cutout metal and acetate frames. Dita's fragrance collection offers four distinct, glamorous scents, including her latest, "Erotique," and is available at Ron Robinson in Los Angeles, as well as on dita.net and beautylish.com. Dita is also a best-selling author who is currently working on her third book, "Your Beauty Mark," a guide to eccentric glamour. (It! Books/Harper Collins).
She previously served as the global ambassador for Cointreau from 2007-2013 and in 2010-2011, she was also the face of Perrier for an exclusive set of limited edition bottles and cans. An advocate in the fight against HIV and Aids, Dita was a MAC Viva Glam Spokesperson from 2006-2008 and in 2009 she participated in the H&M/Fashion Against Aids t-shirt campaign. She has also performed and appeared at several events for Amfar and was honored with their Award of Courage in 2008. Her status as a burlesque star and modern-day feminist has also garnered her an invitation to speak at the Oxford Student Union, where other elected speakers have included the Dalai Lama, Mother Teresa, Tony Blair, and Anna Wintour.
Dita recently presented her final U.S. tour dates for her full-length revue, "Burlesque: Strip, Strip, Hooray!" presented by Live Nation. Featuring MC Murray Hill and a who's who of burlesque, the 90-minute variety show played to sold-out crowds in Los Angeles, San Francisco, Chicago, and New York
EVENT DATE, TIME, TICKET PRICE, AND LINEUP ARE SUBJECT TO CHANGE.
The maximum number of tickets available per purchase for each event is the maximum number permitted per customer. Your name, credit card, address, and email address will be verified. Spaceland Presents or Eventbrite reserve the right to cancel any orders in excess of the stated ticket limit.
Any tickets suspected of being purchased for the sole purpose of reselling can be cancelled at the discretion of Spaceland Presents or Eventbrite.
Be the first to find out about all the new shows at Regent, Echo + Echoplex, and all the other cool shows we have throughout Los Angeles by visiting our website: spacelandpresents.com!
Plus Unlock promo codes for presales to our upcoming shows by signing up to Spaceland's weekly email blast!