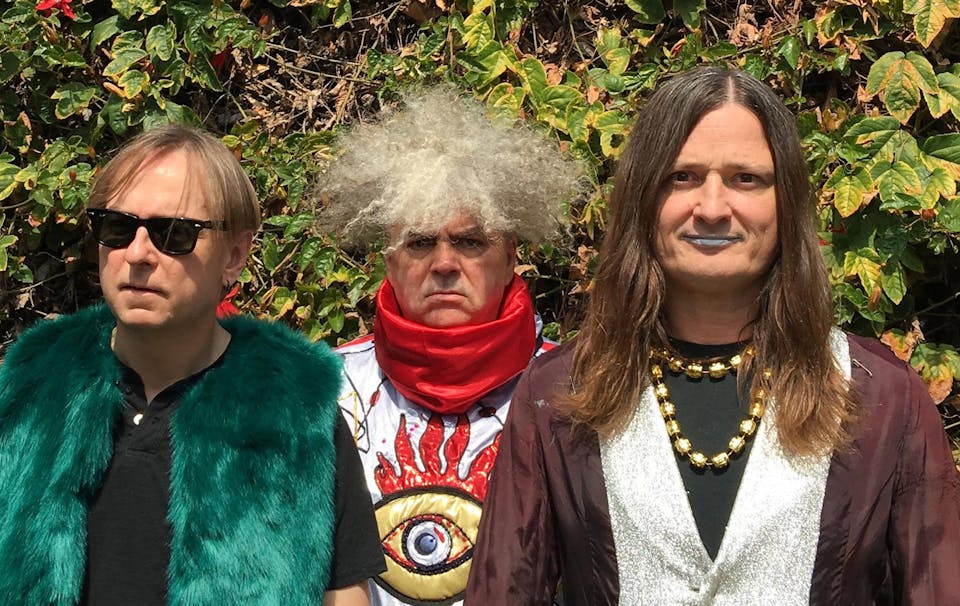 Melvins
Redd Kross
Toshi Kasai
The Echo
Los Angeles
,
California
MELVINS, REDD KROSS, & TOSHI KASAI
Melvins
The Melvins were formed in Montessano, Washington in 1983 by Buzz Osborne, Matt Lukin and Mike Dillard. Lukin and Dillard left the band and drummer Dale Crover stepped in shortly thereafter. Osborne and Crover have been the Melvins' mainstays throughout their 29 year metamorphosis.
To date the band has released 27 original albums, numerous live full-lengths and far too many to count singles and rarities. They've partnered with Jello Biafra, Lustmord and Fantomas for individual releases and toured the world many times over (side note: the band was in both Christchurch and Tokyo for their 2011 earthquakes).
With the release of (A) Senile Animal in 2006, the Melvins became a four-piece, essentially annexing Jared Warren and Coady Willis of Big Business. The Melvins, already known for their shattering mix of punk-meets-metal (and often referred to by an assortment of tags including sludge and grunge), were now louder and more bombastic than ever leading to a resurgence in the band's popularity and a run of three original full-lengths. Never ones for complacency, Buzz and Dale have since created Melvins Lite, a line-up partnering the pair with Mr. Bungle's Trevor Dunn and most recently teamed with Butthole Surfers' JD Pinkus and Paul Leary for the 2014 release, Hold It In.
Redd Kross
Redd Kross have always been too good, too perfect, too true, to believe. Mythic. Could this tuneful hardcore punk EP really be the work of a brother band with the 15-year-old on vocals and guitar and the 11-year-old on bass? Did Redd Kross really open for Black Flag? Could Jeff and Steve really have been born and raised in the Beach Boys' hometown of Hawthorne, California, and did Jeff really see the Beatles live in 1966? Did one of them, dressed in Gene Simmons makeup, really kill a Bruce Springsteen impersonator onstage? Is that really their hair? Could Researching the Blues, their first studio album in 15 years, be not just the hottest thing since Cher went solo but the best start-to-finish Redd Kross record ever?
Somehow, the answer to all the above is improbably, wonderfully, beautifully YES. Long have Redd Kross rocked, and long have critics, devoted fans, Rodney Bingenheimer and fellow musicians from Seattle (Nirvana) to New York (Sonic Youth) to Driftwood, Texas (Butthole Surfers) to Hollywood (everybody) bowed before the Kross and their self-aware pre-spandex Glam bubblegum garage psychedelic Cheap Trick/Kiss/Revolver post-Kim Fowley rock and roll. Degenerate, sweet: tongues in cheek, song-long winks. Commercial success may never have been theirs (if time and space had been aligned correctly, they'd have been blitzing ballrooms in the early '70s instead of opening for Stone Temple Pilots in the early '90s), but Redd Kross have endured and endeared because they've always had the best possible attitude: smarts, smiles, and total commitment to live hair-spinning showmanship.
Like fellow legendary Great American John Waters, they've devoted their career to making subversive entertainment in a high pop celebrity style, reintroducing in their especially golden late '80s/early-'90s period such forbidden classic-rock tropes as melodies, harmonies, ripping musicianship, and primary colors—stuff that had (largely) been ditched in the underground rock's post-punk, No Wave, hardcore, and sensitive-egghead scenes. Redd Kross then spent the '90s making one great misunderstood record after another until enough shit had caked the fan that n 1997 they pretty much called it quits.
But you never quit being brothers. And so here's the next Redd Kross album—produced and mixed by younger brother Steve earlier this year after it was mostly written by older brother Jeff in 2007–08, and recorded in that same period with the band's current lineup, who've re-engaged in live performance since being lured back into action by an excitable Spanish promoter.
They're too nice to say so themselves, but attention must be paid to this band, to this great album, Researching the Blues, which, like a pair of great pants, is tight and the perfect length. By the time you're two minutes and 51 seconds into the second song, "Stay Away From Downtown," and the band is breaking into the sha-la-las, you will be running around the room with your hands in the air. As the fourth song, the Brian Wilsonian "Dracula's Daughters," ends and the dynamic mid-'60s Beatles jingle "Meet Frankenstein" launches into its first chorus, you will be mass-texting all of your friends with the good news. By the final four songs—"The Nu Temptations" (Stooges-worthy riffs! Cowsills counter-harmonies! And more!), the "Surrender"/Noel 'n' Liam rockers "Choose to Play" and "Winter Blues," and the stunning summer psychedelic power pop that is the closing "Hazel Eyes"—you will know the truth. You tried the rest—but now you've had the best. The McDonalds were educated at Rock 'n' Roll High, and they've stayed true to their school. Here's to their beautiful reunion! Redd Kross Forever!
Toshi Kasai
American guitarist and producer.
The former Big Business guitarist and regular Melvins collaborator has a long history of engineering and/or producing top-tier rock bands - the bathroom in his Sound Of Sirens Studio is decorated with platinum records honoring his contribution to albums by Foo Fighters and Tool, but when it comes to the creative process, Kasai prefers to let the artist lead the way.
EVENT DATE, TIME, TICKET PRICE, AND LINEUP ARE SUBJECT TO CHANGE. Support acts are subject to change.
The maximum number of tickets available per purchase for each event is the maximum number permitted per customer. Your name, credit card, address, and email address will be verified. Spaceland Presents/The Echo or Eventbrite reserve the right to cancel any orders in excess of the stated ticket limit.
Any tickets suspected of being purchased for the sole purpose of reselling can be cancelled at the discretion of Spaceland Presents/The Echo or Eventbrite.