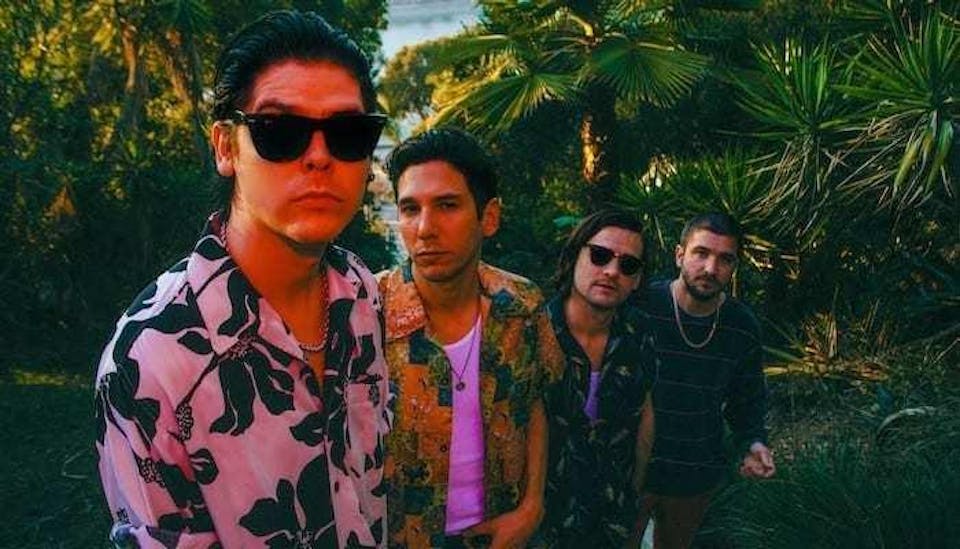 Plague Vendor
No Parents, Spirit Mother
The Echo
Los Angeles
,
California
PLAGUE VENDOR appearing at THE ECHO in LOS ANGELES with NO PARENTS and SPIRIT MOTHER
Plague Vendor
When Plague Vendor were about make their new album By Night, singer Brandon Blaine didn't exactly know what he wanted it to sound like, but he did know what he wanted it to look like. "A house that's falling apartbut lit uplike crazy," he says now, six months after finishing a record that captures that exact feeling of ruin and regeneration, of charisma and catastrophe and of slashing at the night with nothing but pure electricity. Where 2016's BLOODSWEATended with a to-be-continued moment and Blaine shouting "Romance!" into the silence, By Nightends with a second of feedback and noise. It's a perfectly spent finish to an adrenaline rush of a record that asks, "What just happened?"Plague Vendor are already usedto making nothing into something. It's a place where the only way things happen is if you make them happen. A fearless our-way-is-the-hard-way work ethic and famously physical live shows won the band a ferocious fan base, a flash-bang debut album and place of pride on the Epitaph Records roster. When they called that album BLOODSWEAT they might've just been explaining what it took to make it. (Or they could've just been talking about those live shows.) And when they stepped back into the studio in the latesummer of 2018, they were ready again to do something new. They spent eleven days locked in at Hollywood's legendary EastWest Studios (Brian Wilson, Ozzy Osbourne, Iggy Pop) with StVincent/Chelsea Wolfe producer John Congleton, with all visitors banned and all distraction eliminated. (Well, one blood relative has was allowed once.) Theyhad the instinct to delay the sessions until they knew they could get Congleton, and when they met, they connected intensely and instantly, more like co-conspirators thancolleagues. They would even complete each other's sentences, says drummer Luke Perine. With Congleton's precision production, they found their own way between the powerful-but-too-polished sound of right now and the engaging-but-aging reinterpretations ofclassic punk/rock albums of the 60s and 70. And with Congleton's limitless encouragement, they did things Plague Vendor never did before: chorused bass in endless waves, lightning-strike flashes of synth, motorik man-machine drums that sound inhuman and human at once and even a string section that'll be a surprise if they ever do it live."We knew we could trust him to take us as far as we wanted," says Perine, and inspired by the opportunity, the band stretched and warped their songs, discovering a merciless sense of tension and apprehension that set every moment on edge. (That's how they play live, too, says bassist Michael Perez: "It's all a performance—building energy and releasing it.") Blaine broke out new vocal ideas, new vocal styles, new depths of imagery and intensity that feel like flashbacks instead of pop songs. If BLOODSWEATwas a primal scream, By Nightwould be a precision attack. And, says Blaine, "I had my ammunition ready."The record starts like you're in the studio with them.There's a second of chatter to check if you're ready, and Perine's drums, Perez' bass and Rogers guitar aligning in formation. Then a snap dynamic change and anxious heart-pounding piano as Blaine slides in, out of breath and into a scream before the minute mark. That's "New Comedown," and the rest is just as stark, raw and out of control—even the love songs, when there are love songs. ("You gotta have light to have dark," says Blaine.) The brooding "All Of The Above" is an internal monologue
disintegrating over a sci-fi punk drumbeat, while sing-along-gone-wrong "Let Me Get High\Low" is an infinity mirror of echo, effects, illusion and delusion: "Toward the end," says guitarist Jay Rogers, "it just gets cinematic." The menacing "Night Sweats" is like the soundtrack to some kind of crime spree as a cruise through town in a camouflage Cadillac starts to fall apart. "Snakeskin Boots" is a shattering battle with temptation and closer "In My Pocket" is a song for the first bleak light of dawn—it's exhaustingandexhilarating at the same time, with a final rush moment that screeches to an instant stop. Think of it as the moment the sun finally comes up, which is exactly when an album called By Nighthas to end. As Blaine says: "Nothing cool happens duringthe day."
No Parents
With a cocktail of energy, humor, and sweat, No Parents bridges the gap between the catchy nostalgia of early 00's, anarchy-symbol- wristband wearing, pop-pranksters and the raw howl of glee that's resonated from mosh pits since before Regan ever slunk into the presidency. Their live shows are both spectacle and splash zone, something to be witnessed yet impossible not to be immersed in. Thus far, no reports have surfaced of them turning any party-minded parents away at the door.
Spirit Mother
Spirit Mother is a heavy psych rock group out of Long Beach, CA described by Daniel Oliva of Cool-Tite as "jangly,heavy, and rhythmic, with violin ominous, out-front, and present" using violin, a driving rhythm section, and fuzz to craft their sound.
EVENT DATE, TIME, TICKET PRICE, AND LINEUP ARE SUBJECT TO CHANGE. Support acts are subject to change.
The maximum number of tickets available per purchase for each event is the maximum number permitted per customer. Your name, credit card, address, and email address will be verified. Spaceland Presents/The Echo or Eventbrite reserve the right to cancel any orders in excess of the stated ticket limit.
Any tickets suspected of being purchased for the sole purpose of reselling can be cancelled at the discretion of Spaceland Presents/The Echo or Eventbrite.