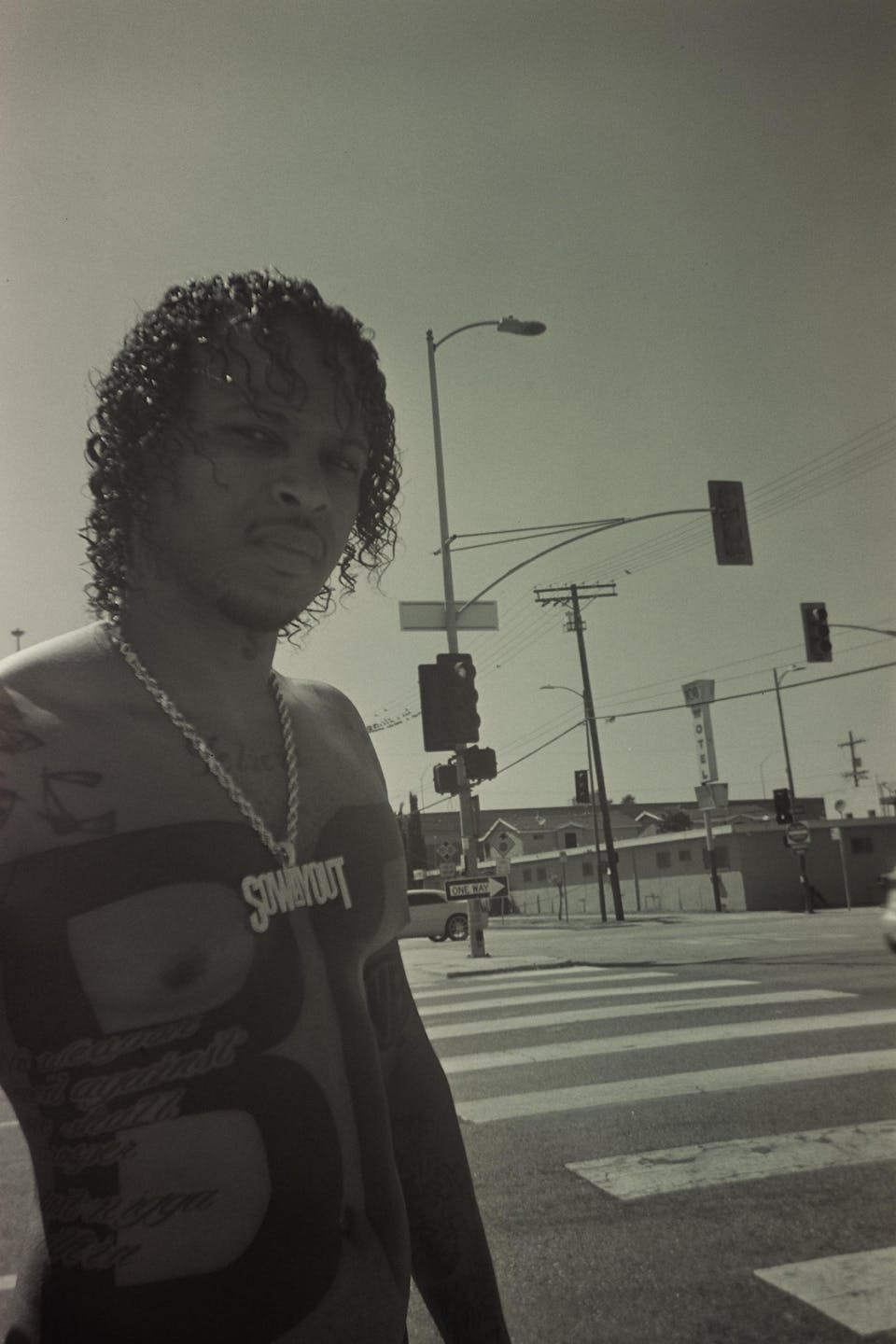 G Perico
Azjah
The Regent Theater
Los Angeles
,
CA
.
After getting out of jail, the South Central Los Angeles rapper saw how a number of Los Angeles area rappers had graduated from artists on the come up to some of the hottest MCs in the game. After dabbling in music as a way to stay out of trouble, G Perico knew he had to change.
"I was like, 'I need to get all the way in the mix and stop playing,'" G Perico says today. "I decided to actually be serious about it. I was like, 'Let me put my full attention into this. Let me give everything up.' I was feeling like my back was up against the wall because I was never planning on doing anything other than the street stuff."
With most of his friends starting life sentences and his own legal situation becoming increasingly serious, G Perico reset his focus. He set his sights on running his So Way Out clothing store, making music, and eliminating risky behavior. By 2015, he had the store up and running, was moving T-shirts, and had released his Tha Innerprize Two project.
After Xzibit and Soren Baker featured G Perico on Open Bar Radio on Los Angeles radio station KDAY, G Perico's name was buzzing in the streets. "Everywhere Xzibit was at, I'm hearing him say my name like, 'Man. This is crazy,'" G Perico recalls. "Then everybody else started falling in. Things started happening, so I knew what I was doing was working, so I just stuck with the script."
Some of the luminaries that hit G Perico up included industry titans Coach K (Migos, Lil Yachty) and Chris Gotti (Ja Rule, Ashanti, Murder Inc.). Listening to their wisdom and leaning on their advice, G Perico geared up for his Shit Don't Stop project and enlisted Los Angeles rap savant Pun as his manager.
Released in September 2016, the collection changed G Percio's trajectory, moving him from the hood's best-kept secret to an artist making major moves independently. "That's what actually put me in the rap game," G Perico says of Shit Don't Stop, which earned 4 out of 5 stars from HotNewHipHop.
Songs such as "Craccin!!!," "Nothin But Love!!" and the title track endeared G Perico to a fanbase hungry for grimy Los Angeles gangster rap. G Perico's street yet aspirational style and aesthetic – he's often seen sporting a Jheri curl, which was synonymous with such pioneering California rappers as Eazy-E, Ice Cube, and DJ Quik – quickly became the buzz of the rap world. Indeed, on the heels of Shit Don't Stop, Pitchfork called him "one of the most promising newcomers" on the West Coast.
Next up were two 2017 releases, All Blue and 2 Tha Left. G Perico's buzz became deafening, with the video for his "All Blue" single logging more than 975,000 views on YouTube. G Perico was performing throughout the country, doing press runs, and earning more attention for his music.
Looking to continue his impressive rise, G Perico aligned himself in 2018 with Roc Nation, the full service entertainment company owned by JAY-Z that counts Big Sean, DJ Khaled, Meek Mill and J. Cole among its clients. For G Perico, Roc Nation represents an opportunity to partner with a team driven to help him facilitate his business objectives.
"We come from damn-near identical backgrounds, so they understand the things I'm doing and trying to do from the bottom to the top," he says. "Plus, they don't even have to be in this, so they're trying to help."
Coming from a street entrepreneurial background, G Percio knows that his long-term success is tied to being successful at both music and business.
"Everybody that I know that just approached things as an artist, they always end up getting the short end of the stick," he explains. "Being oblivious to what's going on is like the absolute wrong way to go. Me coming from the streets, I come from the hustle. It's a gift and a curse, having that end to compare things to. I don't think I was designed to just be an artist."
Now working on his first official studio album, as well as other surprise material, G Perico wants to make a strong first impression to listeners just becoming familiar with him, while impressing his long-time fans with his artistic growth and creative reach.
"I want to show people the growth, just me opening up and showing different sides to me," G Perico states. "With the new music, it's a little broader. The wordplay and the melodies that I'm doing now, they're definitely bigger and could appeal to a bigger audience. I was so stuck on one particular period of my life on the last few projects. I've done a lot of fly, dope stuff, so I'm just starting to touch on some new subjects."
With a relentless work ethic, keen business savvy, and street-certified music, G Perico stands as one of music's most important emerging voices.
"I'm setting myself up for longevity," G Perico says. "A lot of people say they're authentic, so it's hard for me to turn around and say that because who knows what's real right now. Everybody swears they're real and did all this, so I'm not going to say I'm the realest. I'm me, and I'm speaking on my life. I don't think that there's an artist that's important or relevant right now that's lived a life like mine. That's the difference. I'm speaking on my life."
And, as already demonstrated, G Perico knows his life and his story are ones people want to hear.
EVENT DATE, TIME, TICKET PRICE, AND LINEUP ARE SUBJECT TO CHANGE.
The maximum number of tickets available per purchase for each event is the maximum number permitted per customer. Your name, credit card, address, and email address will be verified. Spaceland Presents/The Regent or Eventbrite reserve the right to cancel any orders in excess of the stated ticket limit.
Any tickets suspected of being purchased for the sole purpose of reselling can be cancelled at the discretion of Spaceland Presents/The Regent or Eventbrite.
Be the first to find out about all the new shows at Regent, Echo + Echoplex, and all the other cool shows we have throughout Los Angeles by visiting our website: spacelandpresents.com!
Plus Unlock promo codes for presales to our upcoming shows by signing up to Spaceland's weekly email blast!