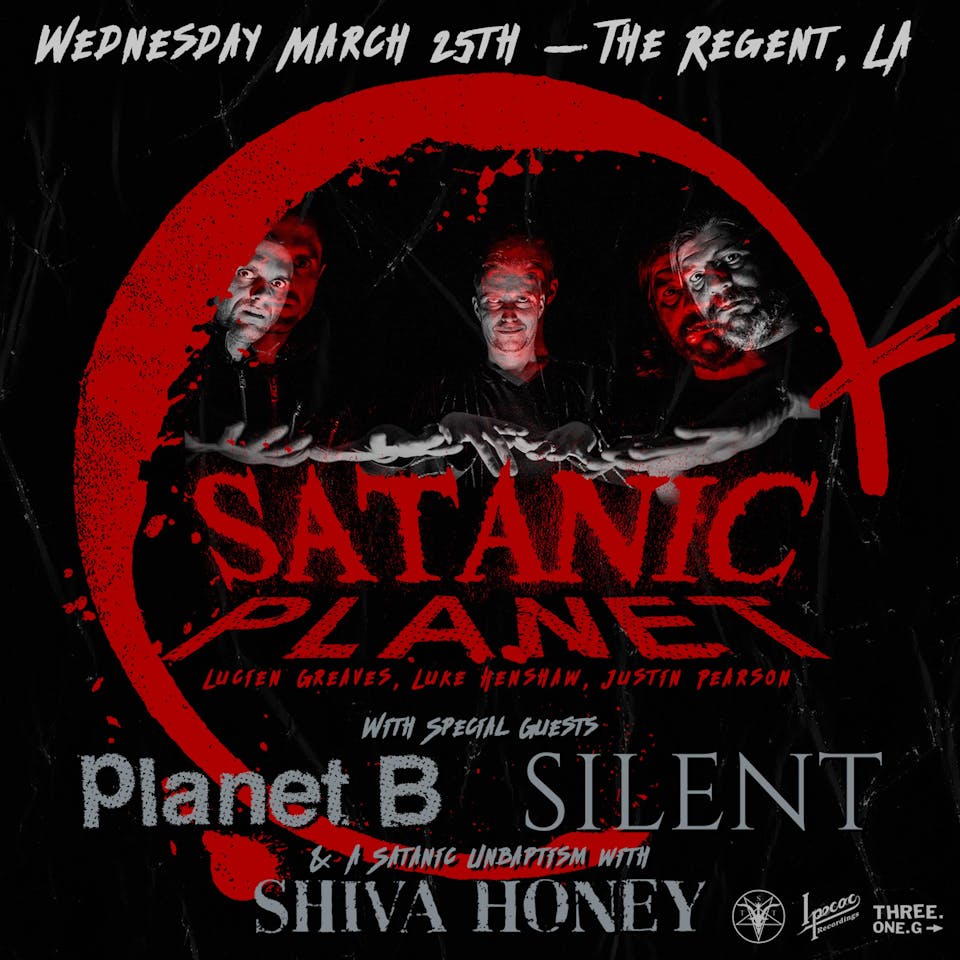 SATANIC PLANET
Planet B, Silent, A Satanic Unbaptism with Shiva Honey
The Regent Theater
Los Angeles
,
CA
$17.50 - $20.50
Postponed
.
SATANIC PLANET
(Lucien Greaves, Luke Henshaw, Justin Pearson)
w/ special guests
PLANET B | Silent | A Satanic Unbaptism with Shiva Honey
________________________________________________________________________________________________
Planet B is the duo of punk provocateur Justin Pearson (The Locust, Dead Cross, Swing Kids, Retox, owner of Three One G Records) and hip-hop producer Luke Henshaw (Sonido de la Frontera, First Power Crew). Together, these two dissidents combine their styles into a new and thrilling collaboration, bolstered by an awesome array of guests: from hip-hop pioneer Kool Keith to industrial godfather Martin Atkins (PiL, NIN, Killing Joke, Ministry), to guitarist and composer Nick Zinner of The Yeah Yeah Yeahs.
The duo's music lays somewhere just out of reach of genre, with aesthetics rooted in hip hop, hardcore punk, turntablism, and 70s-80s horror movie soundtracks. Henshaw's fantastical sci-fi accompaniments utilize Justin's infamously abrasive vocals and apply it to dark and distorted electrical hums, claps, and marching band drum beats using two MPCs. No sound is beyond their experimental scope.
For this project, the band collaborates with co-founder and spokesperson of The Satanic Temple, Lucien Greaves-- the most prominent and outspoken contemporary Satanist in the world. Greaves has gained international attention as an advocate for religious liberty and the voice of the Satanic Reformation, delivering lectures nationwide and featured in national media outlets including MSNBC, NPR, Huffington Post Live, CNN, Harper's Monthly, Newsweek, Fox News, Vice, Salon, Rolling Stone, and many more.
Here, Greaves moves beyond spoken word and into lyricism, with the musical backing of Planet B. The trio embraces the avant-garde to create sci-fi sermons that range from doom and industrial to evil exotica. These dark musical soundscapes serve as a vessel to share the important messages that The Satanic Temple stands for including religious freedom, highlighting the hypocrisy in dominant organized religions, and the horrific consequences of pseudoscience and malpractice still being utilized today in America. This project is currently working on a full-length album, tentatively titled The Satanic Mass feat. Lucien Greaves [Transmitted from Planet B].
EVENT DATE, TIME, TICKET PRICE, AND LINEUP ARE SUBJECT TO CHANGE.
The maximum number of tickets available per purchase for each event is the maximum number permitted per customer. Your name, credit card, address, and email address will be verified. Spaceland Presents/The Regent or Eventbrite reserve the right to cancel any orders in excess of the stated ticket limit.
Any tickets suspected of being purchased for the sole purpose of reselling can be cancelled at the discretion of Spaceland Presents/The Regent or Eventbrite.
Be the first to find out about all the new shows at Regent, Echo + Echoplex, and all the other cool shows we have throughout Los Angeles by visiting our website: spacelandpresents.com!
Plus Unlock promo codes for presales to our upcoming shows by signing up to Spaceland's weekly email blast!