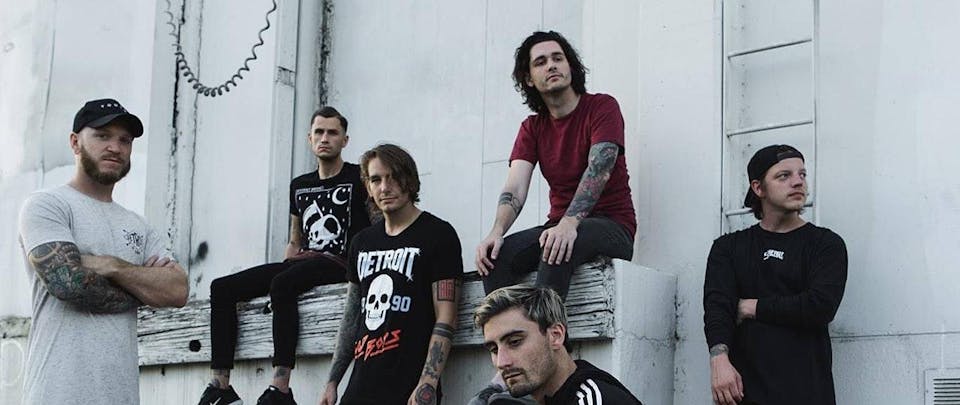 We Came As Romans
The Devil Wears Prada, Gideon, Dayseeker
The Regent Theater
Los Angeles
,
CA
$22.50 - $25.50
Postponed
WCAR will be performing the album "To Plant A Seed" in its entirety FOR THE LAST TIME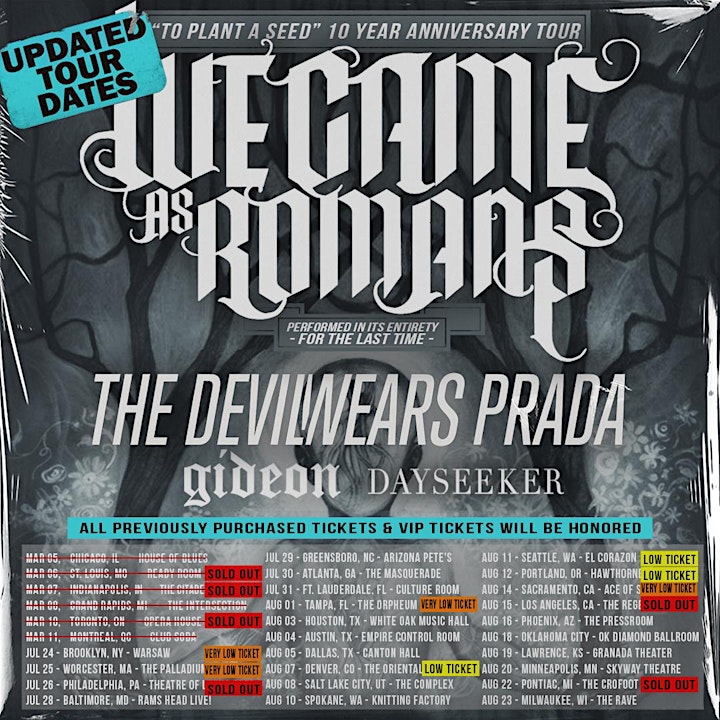 Brotherhood lasts forever.
 

No matter what happens, those bonds endure in memories and moments. We Came As Romans hold a similar link between them. After nearly 15 years together, countless sold out shows, critical acclaim, and over 250 million streams, the Michigan quintet—Joshua Moore [guitar], Dave Stephens [vocals], Lou Cotton [guitar], Andy Glass [bass], and David Puckett [drums]—weather their darkest time and emerge stronger in the name of a fallen brother and member: Kyle Pavone.


The group soldier ahead with a sixth full-length opus befitting of his memory.


"When Kyle passed away, it changed everything for us personally and, as a byproduct, everything for the band," says Joshua. "An earth-shattering event puts a lot of things in perspective. We've spent so much time together. We've been doing this since we were kids. The one thing that won't change is the way Kyle affected my life. Before we were bandmates, we were essentially brothers. In order to be genuine to our fans and ourselves, we had to write about what we dealt with losing him. At the same time, this isn't just a bunch of songs soaking in depression. We want to celebrate what we built."


Together, We Came As Romans built a burgeoning empire. Merging chugging metallic force, skyscraping melodies, off-kilter electronic experimentation, and hardcore spirit, the group quietly claimed a place at the forefront of modern heavy music. They put up unbelievable numbers with the likes of "Hope" [17 million streams], and "The World I Used To Know" [15 million Spotify streams] as well as multiple top ten records on the Billboard Top 200. Meanwhile, 2017's Cold Like War represented a career peak. The title track "Cold Like War" and "Wasted Age" both surpassed 9 million Spotify streams as the band received its best career reviews to date. Alternative Press cited the album as "a milestone," and Metal Hammer praised their penchant for unpredictability by affirming, "This record is never boring." Beyond tours with everyone from A Day To Remember, Bring Me The Horizon, I Prevail, The Used, Sleeping With Sirens, Parkway Drive, and more, they packed houses on headline dates around the world.
After Kyle's death in 2018, they made a careful decision to push forward, returning to the road with Bullet For My Valentine before gathering themselves in the studio with longtime collaborator Nick Sampson [Asking Alexandria, Born Of Osiris] and seeking perspective from Drew Fulk [Motionless In White, Lil Peep].
"Nick has been part of the family forever, because he was an engineer on our first record," Joshua continues. "We also had to involve Drew. He produced Cold Like War, and it was Kyle's favorite record. It felt like it needed to happen, since that was the last great memory Kyle made with us. Everyone was a big part of the process."
We Came As Romans introduce this next chapter with a pair of singles, "Carry The Weight" and "From The First Note." Evocative clean guitar echoes at the beginning of "Carry The Weight" before giving way to a hammering groove and cathartic screams that culminate on a hypnotic chant—one of the band's most irresistible.
"We've always been melodically driven, but we wanted to push it to the next level," he goes on. "When we went back on the road, it was the worst month of my life. No one could make it through a set without bawling our eyes out. It's about moving forward—not moving on. Everyone knew we were dealing with it. Every emotion skyrocketed. It was this awkward limbo. It's the most grief any of us have ever dealt with. We toured, so we could all be together every day through the grief. We dealt with it as a unit in remembrance of him."
Meanwhile, "From The First Note" hinges on thick guitars as it delivers a fast and furious elegy. Steamrolling forward on a punk gallop, the chorus rings out, "I can't replace you."
"There was no way we were getting another singer to come in," exclaims Joshua. "Based on the thought process, that was a lyrical inspiration for 'From The First Note.' We're allowed to be angry and upset, but we're also allowed to be happy we had those memories. Kyle was able to find hilarity and fun in the shittiest of situations. One of my favorite images is him riding a raft during Warped Tour with his microphone. We're looking back on everything fondly."
In the end, the brotherhood between We Came As Romans lives on.
"I'd love for fans to say this is the best We Came As Romans they've ever heard," he leaves off. "The goal is always to be the best version of our band. Hopefully, they see the emotion, care, and effort that went into these. Hopefully, it can speak to them missing Kyle in whatever process of remembrance they're going through. We're never going to be the same. There's no way for us to be the same, but we're going to try to move forward in a way that honors him and what he loved doing most."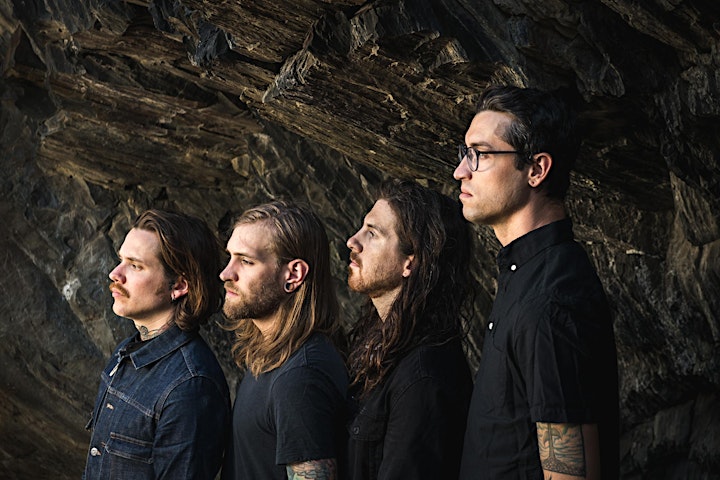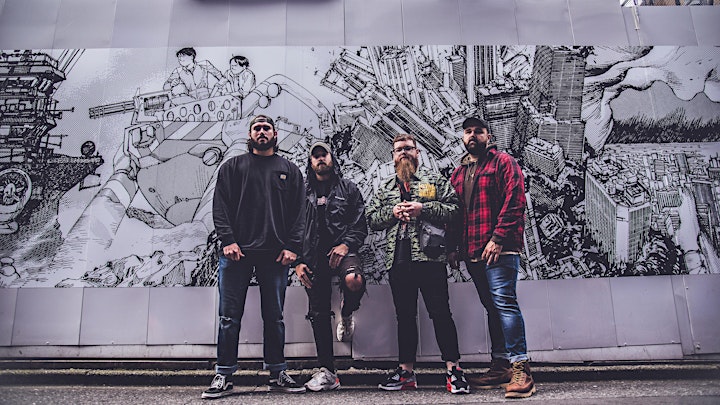 Daniel McWhorter (Vocals), Tyler Riley (Guitar), Jake Smelley (Drums) and Caleb DeRusha (Bass)
From a very early age, most of us are molded by the traditions of our upbringing. While there are undeniable benefits to tradition, often the fear of bucking against the expectations they create prevent us from pursuing our personal truth. Growing up in the deep south, the members of Gideon spent years letting these mental fences dictate their creative direction. On their aptly titled fifth full-length album, Out of Control, the band is no longer allowing themselves to be put in a box, sonically or topically, to fit what is expected of them.
The members of Gideon - Daniel McWhorter (Vocals), Tyler Riley (Guitar), Jake Smelley (Drums) and Caleb DeRusha (Bass) - have encountered a myriad of cultures while touring the world in support of their music. This opportunity to expand their worldview led to the realization that open-mindedness and acceptance are important aspects of developing your own perspective. As a result, they've grown away from their roots as a "Christian Metalcore" band. If you look at the band's last three records, this transition becomes apparent. On 2014's Calloused, the band offered glimpses into their internal struggle with being a "Christian" band. By the release of Cold in 2017, they emerged more bitter and aggressive; defiant in the face of expectations. Finally, Out of Control finds the band breaking free of all previous restraints as they craft a diverse record unlike anything they've ever released.
Out of Control is enhanced by it's eclectic array of musical influences. Most notably, there is a heavy dose of 90's and 2000's nu metal, but there are also clear inflections of outlaw country and hip hop incorporated throughout the record. The album, which found the band reuniting with producer Randy Leboeuf, further benefited from the inclusion of bassist Caleb DeRusha. A long time friend of the band, DeRusha's familiarity with Gideon's music and fresh perspective were integral to redefining their sound. Lyrically, Smelley tapped into the same sources of pain that fueled a good portion of the timeless songs included in the Great American Songbook. In the process, they embraced their southern pride while redefining what that term actually means. On "Take Me", the band speaks to the emotional rollercoaster of being a musician - from the lows of losing ones they love while on tour half a world away and not being able to come home during trying times to only feeling alive while pursuing their dream. "Sleep" is a defiant anthem addressed to those that have tried to invoke a form of control over the band or its members - particularly fans that have turned their backs on the band as they've moved away from their previous style. "Outlaw" is about finding the supreme confidence in being yourself that is necessary to truly reach your potential and, for the first time, the band speaks for the south on songs like "Southwind" and "Out of Control".
Gideon was particularly inspired by Andre3000's bold statement that "The South's got something to say" at the Source Awards in 1995 while writing this record. At the time, mainstream hip hop revolved around "East Coast vs. West Coast", and Andre3000's claim energized a generation of southern artists to demand they be taken seriously. When Out of Control is released on Equal Vision Records October 11th, it will undoubtedly prove that, once again, the south has something to say.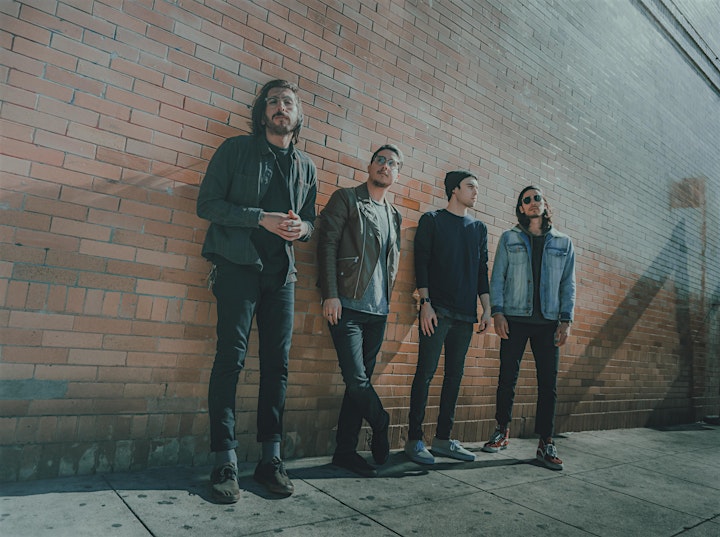 Dayseeker is a 4-piece Rock/Metal band from Southern California formed in 2012. They are signed with Spinefarm Records, a subsidiary of Universal Music Group. On December 15, 2016, the band announced their departure from InVogue Records and that they had signed with Spinefarm Records. Shortly after, they announced a US tour with headliner Silent Planet, along with Ghost Key and Hail the Sun, which began in February 2017. A year after the release of Origin, Dayseeker announced a new full-length album set to release in 2017. The album, Dreaming Is Sinking / Waking Is Rising, was released by Spinefarm on July 14, 2017.
Since the release of Dreaming Is Sinking / Waking Is Rising the band has been touring relentlessly countrywide and building a strong profile. The record sold just shy of 2,000 copies in their first week, earning them some impressive debut charting positions amongst hard rock and new artists. In Summer 2017, they embarked on a tour with The Color Morale and The Plot In You. Followed by that tour, they supported a tour with Oceans Ate Alaska and with Ice Nine Kills to close out their year.
Spinefarm will be releasing a deluxe version of Dreaming Is Sinking / Waking Is Rising in 2018 featuring some stripped down versions of a few tracks and an additional cover track. Catch Dayseeker this summer performing on the Mutant stage on the Vans Warped Tour.
EVENT DATE, TIME, TICKET PRICE, AND LINEUP ARE SUBJECT TO CHANGE.
The maximum number of tickets available per purchase for each event is the maximum number permitted per customer. Your name, credit card, address, and email address will be verified. Spaceland Presents/The Regent or Eventbrite reserve the right to cancel any orders in excess of the stated ticket limit.
Any tickets suspected of being purchased for the sole purpose of reselling can be cancelled at the discretion of Spaceland Presents/The Regent or Eventbrite.
Be the first to find out about all the new shows at Regent, Echo + Echoplex, and all the other cool shows we have throughout Los Angeles by visiting our website: spacelandpresents.com!
Plus Unlock promo codes for presales to our upcoming shows by signing up to Spaceland's weekly email blast!