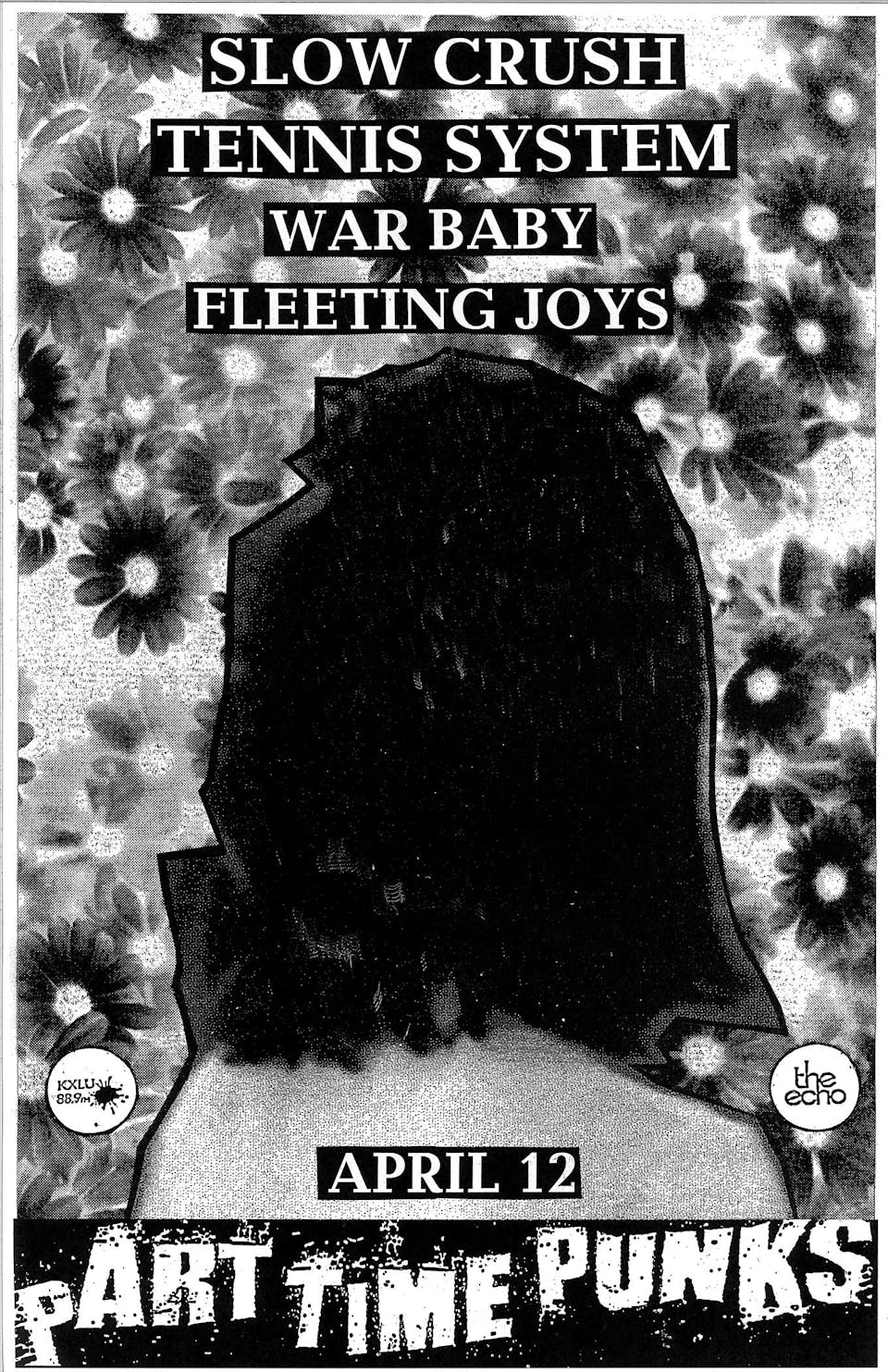 POSTPONED: SLOW CRUSH + TENNIS SYSTEM + WAR BABY + FLEETING JOYS
Echoplex
Los Angeles
,
CA
$12.00 - $15.00
Postponed
SLOW CRUSH + TENNIS SYSTEM + WAR BABY + FLEETING JOYS at the ECHOPLEX on APRIL 12, 2020
Hailing from the UK, SLOW CRUSH is a compelling abrasive shoegaze band, dealing with the aesthetics of contrasting sounds. Heavy like a gloomy dream yet soothingly vibrant. The vulnerable soft floating voice of Manchester's Isa Holliday underneath layers of grungy shoegaze soaked noisepop, seeking shelter from a f'ed up world.
Listen to SLOW CRUSH.
TENNIS SYSTEM
Sharing their namesake with a song by predecessor noise pop group The Lilys, TENNIS SYSTEM are keeping the legacies of Sonic Youth, My Bloody Valentine, and the Jesus and Mary Chain alive with their expansive, catchy-as-hell pop songs. Matty Taylor and and co. are masters of loud and dirty anthems, but rising above the noise that blankets them are Taylor's beautifully sung, dreamy lyrics inspired by both love and art, from the drawings of Egon Schiele to the writing of Aldous Huxley.
Listen to TENNIS SYSTEM.
WAR BABY
WAR BABY is a heavy power trio from Vancouver, Canada (Namecheck Husker Du here btw.). The group is comprised of two Albertans, songwriting kindred spirits Brock Allen (vocals, bass), Jon Redditt (vocals, guitar) and Australian born drum savant Kirby Fisher (drums, vocals). The group's RIYL (which runs the gamut of alternative, proto-punk and noise rock greats) is both relevant but also limited as they always stir their influences professionally.
Listen to WAR BABY.
FLEETING JOYS
"Swirling guitars... layers of noise... drugged out soft male and female vocals going back and forth... sounding like part love, part death, part hope, part sadness. It's as if they've turned their instruments into liquid and poured them into your ears." (From the FLEETING JOYS Bandcamp.)
Listen to FLEETING JOYS.