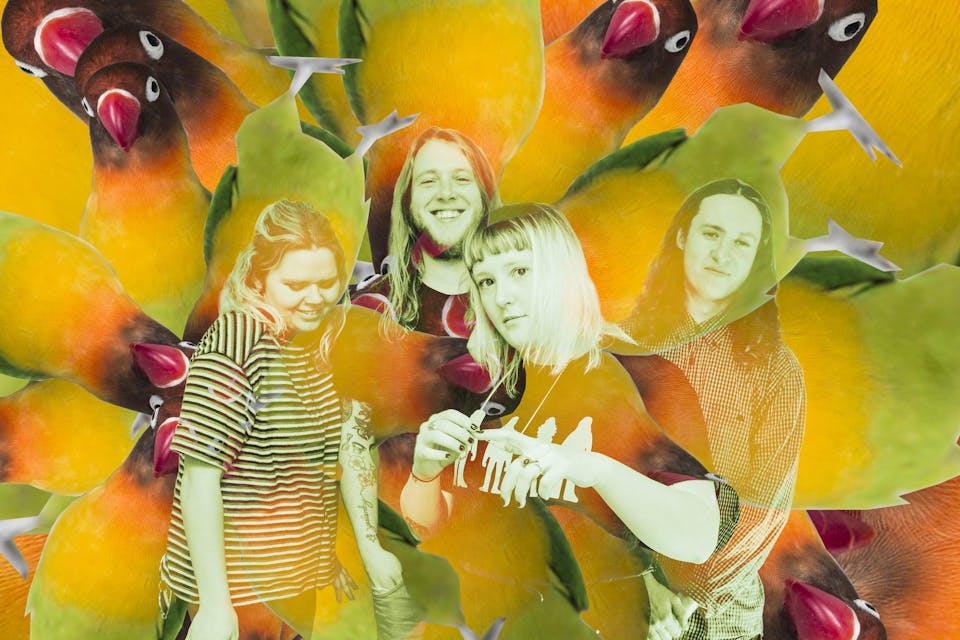 The Echo & 89.9 KCRW Presents Penelope Isles
Penelope Isles
Gum Country
The Echo
Los Angeles
,
California
PENELOPE ISLES appearing at THE ECHO in LOS ANGELES with GUM COUNTRY
Penelope Isles
Today the Brighton, UK-based quartet Penelope Isles, led by brother and sister Jack and Lily Wolter, have released "Cut Your Hair" from their forthcoming debut album Until the Tide Creeps In, due out this Friday, July 12th on Bella Union. Flood premiered the song, saying: "QUOTE." You can listen to the beautiful and spacious, slow burning jam HERE, and pre-order the album HERE. Additionally, the band is happy to reveal details for their first ever North American tour, taking place this fall. Full list of the band's dates below. Purchase tickets HERE.
Jack and Lily Wolter had this to say about the song: "QUOTE."
Penelope Isle's "Cut Your Hair" is the fourth track released from the forthcoming album following "Leipzig" and "Chlorine," as well as the love song "Round," which is "a collection of moments and thoughts of what it's like to be in love," explains the band's Jack Wolter who self-produced the album.
Early praise for Penelope Isles:
"Sweltering guitars scorch the earth [on 'Chlorine']... While summery synths and keys frolic in spaces left between the drum line and spiraling vocals, the riff phrases communicate nearly as much warmth and meaning as the lyrics do." - Stereogum
"There is a grandeur to their songs, big and swelling, ebbs and flows...The whole band is seriously talented, and...seriously rock, too." - Brooklyn Vegan
"Choppy guitar and thumping percussion combine to create a markedly DIY aesthetic throughout the video's three minutes and five seconds of scrapbooked collage visuals. Said DIY aesthetic, both sonically as well as visually, operates as a self-aware style, one that brings an element of dirty garage rock to the haze of dream-pop flushes." - Paste
"[Penelope Isles] emerges with "Chlorine,' sounding like Kevin Parker leaving the insular nature of Tame Impala behind and forming an earnest, fuzzy indie rock band." - Uproxx
"There's a feeling of nostalgia and jubilation when listening to 'Round,' with the lo-fi indie offering held together by dreamy percussion, psychedelic guitar rhythms and the engaging male/female harmonies of the Wolter siblings." - Indie Shuffle
"...a dreamy but biting piece of guitar pop...soaring, pastoral, highly intelligent songwriting." - Clash Music
Formed around the chemistry between siblings and dual songwriters Jack and Lily Wolter, Until the Tide Creeps In is an album deepened by shared experience. Born in Devon and raised on the Isle of Man, the Wolters' bonds were strengthened by separation when Jack moved away to study art at university at 19, when Lily was 13. As he puts it, wryly, "By the time I moved home Lily was not so much of an annoying younger sister anymore and had grown up and started playing in bands and writing songs. We soon became very close. I had written some songs, so we started a band called Your Gold Teeth. We toured a bit and then Lily left for Brighton to study songwriting. A couple of years later I moved down and we started Penelope Isles together." For every sibling band forged in rivalry, many others mount an unassailable genetic argument for keeping the music in the family. The latter is assuredly the case with Penelope Isles, a quartet completed by Jack Sowton and Becky Redford.
Crisp and woozy, blissful and biting, Until the Tide Creeps In showcases the band's expansive DIY mix of translucent dream-pop, fuzz-rock guitars and indie-psych flushes comes lovingly dipped in exquisite harmonies and lustrous melodies: a combination so intuitive, you'd think it was in their blood.
Website | Facebook | Bandcamp | Soundcloud
EVENT DATE, TIME, TICKET PRICE, AND LINEUP ARE SUBJECT TO CHANGE. Support acts are subject to change.
The maximum number of tickets available per purchase for each event is the maximum number permitted per customer. Your name, credit card, address, and email address will be verified. Spaceland Presents/The Echo or Eventbrite reserve the right to cancel any orders in excess of the stated ticket limit.
Any tickets suspected of being purchased for the sole purpose of reselling can be cancelled at the discretion of Spaceland Presents/The Echo or Eventbrite.