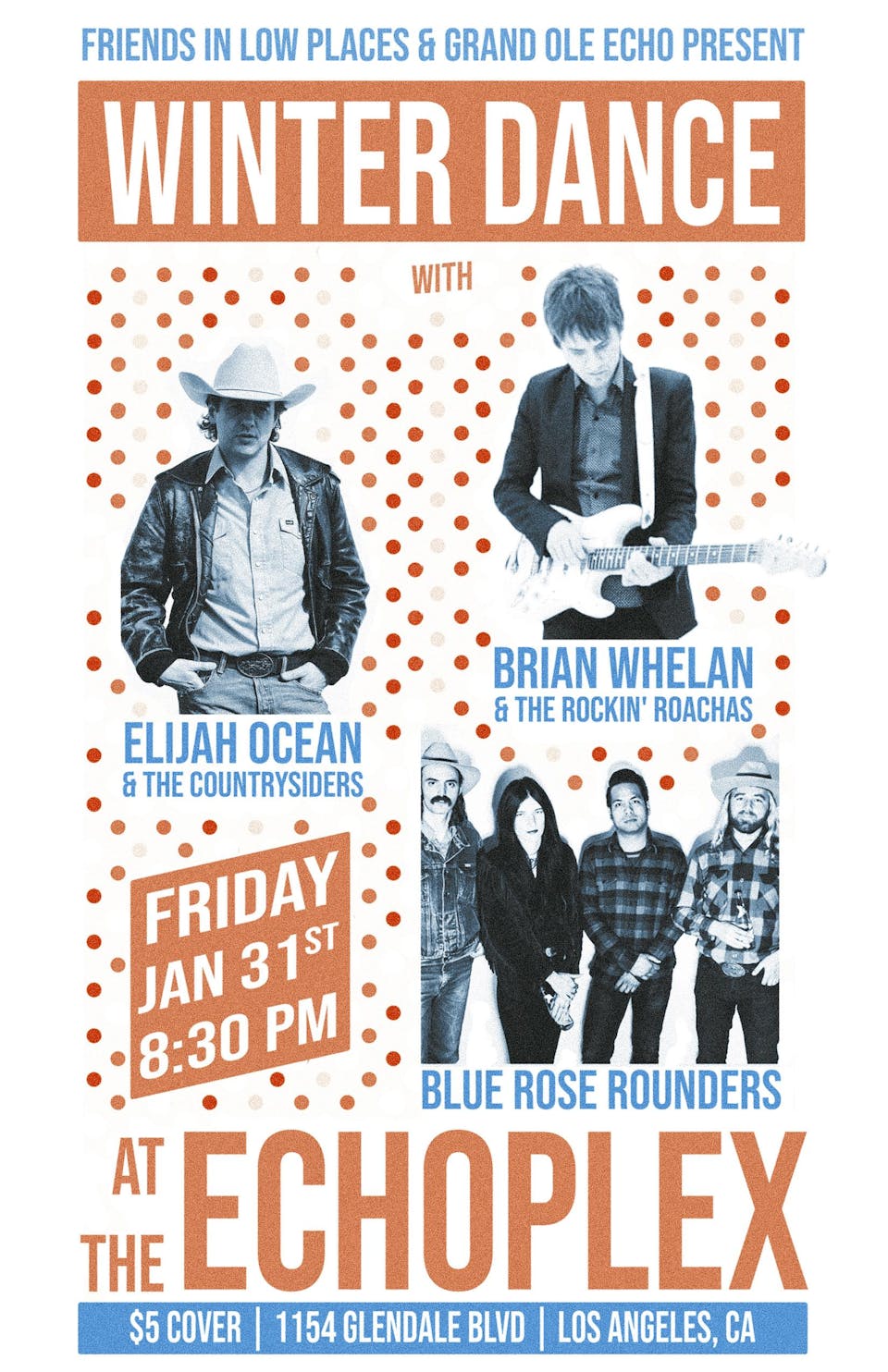 Friends in Low Places & Grand Ole Echo Present
Winter Dance
Elijah Ocean & The Countrysiders
Brian Whelan & The Rockin' Roachas
Blue Rose Rounders
Echoplex
Los Angeles
,
CA
Friends in Low Places & Grand Ole Echo Present WINTER DANCE w/  BLUE ROSE ROUNDERS, ELIJAH OCEAN, & BRIAN WHELAN
Friends in Low Places & The Grand Ole Echo started their annual Winter Dance Formal at The Echo in 2014. The show became a tribute to the original winter dance party and the music that was played in the 1950s and 1960s.
On February 3, 1959, Buddy Holly, Ritchie Valens, and J. P. "The Big Bopper" Richardson were killed in a plane crash near Clear Lake, Iowa. The crash became known as "The Day the Music Died." At the time, Holly and his band, consisting of Waylon Jennings, Tommy Allsup, and Carl Bunch, were playing on the "Winter Dance Party" tour across the Midwest. The Grand Ole Echo like to honor and pay respects to those artists who died and keep the spirit of the music at the time alive and well.
Brian Whelan & The Rockin' Roachas have appeared as the house band for the past three years with guest artists appearing to pay tribute to their favorite artists from that era. The Rockin' Roachas consist of Brian Whelan, Mitch Marine (Dwight Yoakam), Lee Pardini (Dawes), Travis Dagget, & Russell Scott (both whom travel with the Scot Bruce, a traveling tribute to Elvis Presley).